"Murphy was an optimist!"
Posted by Doug McCaughan in : Technology

, add a comment
Every so often I get an email like this:
Hi djuggler,

Just a quick reminder that Plazes.com is going out of service on July 1.

After that, your personal Plazes data (including your account info) will be erased. So why not move your plazes to Nokia Maps today? Simply visit Plazes.com and follow the easy instructions.

If you have any questions, please contact Nokia Support.

Kind regards

Your Plazes Team
I don't even remember being a part of plazes.com but sure enough, I have an account albeit very unused.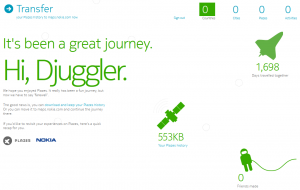 add a comment
Posted by Doug McCaughan in : Humor, Publishing, Video

, add a comment
add a comment
Posted by Doug McCaughan in : Communications, Technology

, add a comment
I have basically given up trying to read any Gawker Media sites. Most of the time, they look like the picture below in both Firefox and Chrome. How do you read a Gawker Media site like Gawker.com or Gizmodo.com? Use Internet Explorer and that's just not acceptable.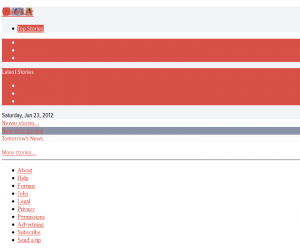 add a comment
Posted by Doug McCaughan in : Deep Thoughts, Philosophy

, add a comment
add a comment
Posted by Doug McCaughan in : Daily Life

, add a comment
This has been a long hard day. Unfortunately, it needs to continue well into the night. Maybe on Sunday he can rest.
add a comment
Posted by Doug McCaughan in : Philosophy, Poetry

, add a comment
This is a beautiful poem by filmmaker, Andrea Dorfman (FB), and poet/singer/songwriter, Tanya Davis (FB). I encourage you to watch the entire video. Consider watching it alone.
add a comment
Posted by Doug McCaughan in : MySQL, PHP, Programming, Software, Technology, WordPress

, 11comments
I'm working on a WordPress site. The site is to have roughly 106 pages all accessible via the WordPress menu system so that the enduser can add and remove pages from the menu as they like. Unfortunately, WordPress currently only allows 90 nodes (ie. 90 menu items) per menu. I have not figured out if this is a memory limitation, a hard coded limitation, or a setting yet. This must be overcome!
Reference:
Possible solutions:
11comments
Posted by Doug McCaughan in : Programming, Software, Technology, WordPress

, add a comment
A long unrealized goal of mine has been to change the behavior of WordPress' publish button when adding a new post. Today, I'll spend a little time examining the underlying code.
obert- and pixolin in Freenode's #wordpress gave me good pointers to the WordPress forum and the WordPress hook directory.
I narrowed it down to two functions: wp_insert_post() and wp_publish_post(). Turns out that the correct function is wp_insert_post(). The only thing that wp_publish_post() does is to transition the status. Looks like I should be able to alter wp_insert_post() in my functions.php file and achieve my goal.
Got it!
Relevant references:
add a comment
Posted by Doug McCaughan in : Daily Life

, 2comments
In 1998, I began working for myself. Thirteen years later, on Oct 4, 2011, I left the basement, put on clothes (had to buy a wardrobe actually), and rejoined corporate America to work 8-5 in Cubeville (think Dilbert) with the understanding I could maintain a little freelance on the side to support my existing clients. Although I am a full-time, benefited employee, I am technically classified as an LDA (Long Duration Appointment) which basically means I am on a three year contract which renews annually. Today, I have the pleasure of interviewing for my position to reclassify it from LDA to a regular employee. The catch? Outside candidates have applied so if today's interview goes poorly, or the other candidates' interviews go exceptionally well, I may find myself out of work and trying to re-establish my consulting career. Am I nervous? Oh yes, totally wigged out.
2comments
Stranded June 14, 2012 12:35 pm
Posted by Doug McCaughan in : Daily Life, Family, Of Being Dad, Transportation, Travel

, add a comment
Before I was of age to drive, I worked at a bus company "cleaning" the buses. I really learned to drive the buses (everything from 21 seater buses to full size city buses) including sliding them around in the snow for fun. I also drove the cars of the employees of the bus company and the surrounding businesses as they would pay us to wash their vehicles.
In high school, I learned to drive in a station wagon then had the pleasure of rebuilding a Triumph Spitfire.
In college I walked and used the bus for 3 years then bought a Dodge D50 pickup which was estimated to have a year's life left in it. I made it last 5 years.
My first brand new vehicle was a 1995 (purchase date Nov 1994) Jeep Wrangler. It ran until a few weeks ago when the head gasket developed a horrid leak and it now sits in the driveway awaiting evaluation and repair. The engine may be beyond repair.
My wife's first brand new vehicle was a 1995 Dodge Neon. It ran until a couple of weeks ago when it finally just died on the Interstate and was towed to the house. It is either a) a timing belt problem which is internal to the engine and makes the car scrap metal, b) a head gasket repair similar to the Jeep, or c) (hopefully!) a bad water pump.
We've been through other cars including an Aerostar, a red Ford thing that I cannot recall the name of, a motorcycle, and of course our current primary mode of transportation, a Dodge Grand Caravan.
Today, the Caravan decided it no longer wanted to shift gears. The diagnosis? A transmission rebuild and the family eats ramen noodles for the rest of the month.
A family of 7, with 6 people still at the house, 5 of driving age, 3 with licenses and a 4th taking his driving test today, goes from 3 cars to zero in a matter of weeks. Knoxville really needs better public transportation! And I need a full-time mechanic at the house!
add a comment
Posted by Doug McCaughan in : Daily Life, Health, Mental

, 2comments
I've been 7 nights in the Utah canyons (8 days) with 2 days in a hotel on either end for a total of 10 days away from the usual rigaramor (hmmm. can't find a proper spelling nor definition). I swore to return with a clean mouth and even temper. I did return super chill but am finding my reintegration into society trying to drag me back into the pre-canyon temperament as strongly as the Sirens tempted ships to the rocks. I will not succumb!
2comments
Posted by Doug McCaughan in : Deep Thoughts, Philosophy

, add a comment
Finding peace is difficult when those around you cannot find it for themselves.
Today I saw two homeless people in a light drizzle that barely qualified for rain. She sat on a curb. He walked toward her. She looked up and smiled with a glowing happiness. They are in love. Those two with nothing but each other have so much to teach those of us who hustle and bustle and struggle to make ends meet within our materialistic world in misery. Time is so precious. How dare we waste one moment in anger, lament, worry or misery. Happiness comes from within.
add a comment