"Murphy was an optimist!"
Posted by Doug McCaughan in : Daily Life, House

, trackback
We installed a bay window on the front of the house a little less than a year ago. They warned that we should paint or stain it immediately. I haven't stained wood since I was a child so I hesitated. We picked out a stain and waited. And waited. The children played in the window. They dried their paintings in the window. Walked their muddy feet in the window. The dogs with their long nails climbed in the window. The cat scratched in the window. And now, I proceed with damage control…a sander and a prayer that the wood is more solid and less veneer. Today the process of staining begins which means turning the bay window into a clean room in a house that has dog hair, cat hair, and human hair floating through the air like fog.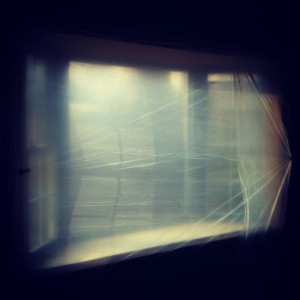 I'll resist the meth jokes. Yo.
trackback