"Murphy was an optimist!"
Hump Day October 1, 2014 9:56 am
Posted by Doug McCaughan in : Daily Life, Philosophy, Poetry

, trackback
My inner middle schooler likes the middle of the week. This time of year, the walk to my son's bus stop is dark. Jupiter shines in the sky but clouds obscure other heavenly bodies. The muscadine grapes have ripened to perfection. I accidentally knock one to ground. Pity. The weather is beautiful yet a storm threatens. The distance rumble of clouds and chaos are apparent only to me for the storm that threatens is in my head. I fend it off by building a high pressure system of calm and positive thinking. The storm, a low pressure system, moves further into the distance; at bay, yet ever present, waiting for other systems to build. And Jupiter shines in the calm skies.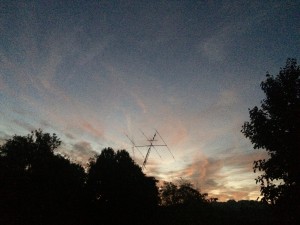 trackback