"Murphy was an optimist!"
Posted by Doug McCaughan in : Daily Life, History, Medford

, add a comment
My brother, my mother, and myself (yellow shirt), on the World Trade Center (WTC) observation deck circa 1985.
add a comment
Posted by Doug McCaughan in : Communications, Daily Life, Gadgets, Hardware, History, Technology

, 1 comment so far
I am not a hoarder! I have grandiose dreams, great plans, a vivid imagination, and a vision of the future. Well, maybe I've held onto a little too much junk.
As horrible as that seems, there are a few treasures:
9:07pm last night I did say to Cathy, "I am willing to admit that I may have a problem."
1 comment so far
Posted by Doug McCaughan in : History, Of Interest, Touchy Subjects, War

, add a comment
And glacier melt has revealed 100 square meters of World War I munitions. The comments on that article are saddening.
add a comment
Posted by Doug McCaughan in : History, Of Interest, TV / Movies

, add a comment

I went back and looked at my Amazon order history. My first purchase was made in 2003. It was a dvd of School House Rock. Guess what I'm putting on the television when I get home!
add a comment
Posted by Doug McCaughan in : Announcements, Knoxville, Of Interest

, 7comments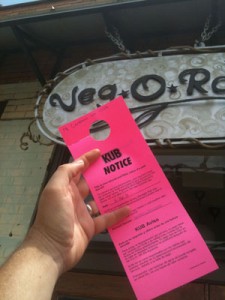 Knoxville is hard on restaurants. Seems like we close them as fast as new ones open. Today I tried to take a friend to Veg-o-rama for lunch only to find the door locked (had to ask myself if today was Monday) and a KUB door tag blowing down the street. If you've never had the displeasure of receiving a KUB door tag, it's basically a notice that if you don't pay your bill by 5pm that your utilities will be turned off. The Time Warp Tearoom says they've been locked up for about two weeks.
To the best of my knowledge, Veg-o-rama was Knoxville's only true vegetarian restaurant and introduced me to a variety of delicious entrees I presumed not achievable in a vegetarian dish. From their website:
Welcome to Veg-O-Rama, Knoxville, Tennessee's only full-service vegetarian restaurant and bar. Our eclectic menu features daily specials based on as much local and organic produce as we can source. We also feature regular menu items like the Veggie Burger, Chili Dogs, and the Getting-to-be-Famous Tofu Reuben that are available all the time.
Veg-o-rama was staffed by wonderful, friendly people. The atmosphere was inviting and accommodated conversation between diners. Additionally, Veg-o-rama added to the developing character of Central Avenue which holds promise of developing into a quaint community. I hope they are simply going through a rough patch and reopen soon but I presume the worst. So, what are your favorite places to each vegetarian in Knoxville?
7comments
Posted by Doug McCaughan in : Knoxville

, 3comments
3comments
Posted by Doug McCaughan in : Daily Life, Knoxville

, 1 comment so far
Hello Knoxville! I'm looking to establish a contract with a pest control company. I want regular inspections for termites. I'm looking for someone that can advise or treat for carpenter bees and carpenter ants. I'd like a company that can advise on environmentally friendly methods (grubs etc) versus chemicals. I may be seeking treatments for mosquitoes too.
What companies in Knoxville should be considered? Which ones should be avoided?
1 comment so far
Posted by Doug McCaughan in : Daily Life, History, Knoxville, Of Interest

, add a comment
Knoxville's first racetrack, and location of the first airplane landing in Knoxville, was built by an ex-slave who made a fortune burying the Civil War dead. His racetrack still exist and in this video we drive it.
add a comment
Posted by Doug McCaughan in : Daily Life, History, Juggling, Of Interest

, add a comment
In the middle of 1993, I decided to spend three months in the dance studios of the upper floors of Knoxville's Candy Factory practicing my dance, pantomime, comedy and choreographing my juggling routines in preparation to hike Europe while living off the rewards of my busking. I had successfully busked the corner of Jackson Avenue and Central on the corner of Manhattan's for 12 weeks every Friday and Saturday night making at least $50 a night sometimes working as little as two hours which was better than the tips I made on a full shift waiting tables at Shoney's plus someone usually bought me a beer or two. My "success" in Knoxville along with the encouragement of a friend who had eight years experience juggling for money (2 on the streets, 6 on the cruise line/college circuits) left me confident that I would eat well, pay my bills, and stay in nice hotels and if that didn't work out my friend had advised me on how to sleep under a bush without getting arrested or having equipment stolen.
By the end of 1993, I was making $13000 a year working 70 hours a week with 4 other smelly guys in a tiny, cramped motel room which had been converted to a software development office with desks made out of doors on filing cabinets. The shower doubled as storage and a sound room for recording audio. Another room was reserved for artists, one for customer service, and two for packaging and shipping.
My European ship sailed and I now live vicariously through the videos of buskers such as Street Show Keith.
Street Show Keith from StopDropAndRoll Inc. on Vimeo.
add a comment
Posted by Doug McCaughan in : Daily Life, History

, 2comments
Knoxville is so full of interesting secrets and amazing history. Today I had the pleasure of driving on Knoxville's first racetrack. The story was explained to me that after the civil war, an ex-slave [Cal Johnson] was awarded the gruesome contract to collect and bury the dead Union soldiers. That ex-slave became a millionaire and with his fortune created the first thoroughbred racetrack in Knoxville, TN. The field in the center of the racetrack is also known as being the location of the first airplane landing in Knoxville. This racetrack exists today and later this week, I will upload a video of a drive around the track.
On an unrelated note, I learned that the animosity between South Knoxville and Downtown Knoxville is rooted in history even if today's Knoxvillians do not know why they detest each other. Apparently when the Great Depression hit, many Appalachians left their mountain homes seeking prosperity elsewhere. Naturally, many found the "big city" of Knoxville. Blue blood Knoxvillians did not appreciate the influx of foreigners to their fair city and took a dislike to the Appalachians. While the blue blood Knoxvillians primarily resided to the north of the river, the Appalachians took residence to the south of the river known today as South Knoxville. The Appalachian influence in South Knoxville is the reason for South Knoxville's uniqueness and eccentricities.
n.b. None of this has been fact checked and was conveyed as an oral history.
tl;dr: Knoxville's first horse race track still exists and was also the location of the first airplane to land in Knoxville.
2comments
Random Memory September 23, 2010 9:27 pm
Posted by Doug McCaughan in : History, Kenner

, add a comment
As I drove home a vivid memory from my early teen years struck me. I lived 2 miles from the New Orleans airport. I used to ride my bike down to the westmost runway that ended at the swamp and lay down on the levee at the end of the runway to watch jets landing just over my head. There was a white box with a tinted window in the top right at the end of the runway I'd put my head over and imagine the controllers in the tower would see strange imagery on their screens. That may explain my Swiss cheese memory.
add a comment
Posted by Doug McCaughan in : Daily Life, Education, History, Of Interest

, 2comments
The in-laws must be cleaning out their garage. The children brought home a huge box of highlighters. So I started thinking, "What could one do with so many highlighters?" Then I remembered Clement Hall room 308 at the University of Tennessee in Knoxville. That was my room. The walls were the color of an 80s computer that had been used too long. Dingy. Gray. Like a light but wet modeling clay. And the walls were cinder block.
A fun trick for the frequent traveler who stays in hotels a lot is to leave a message on the bathroom mirror using a light application of chap stick or other oil. Done correctly, the message remains invisible until a hot shower steams the mirror.
Highlighters on cinder block painted in that gray color work the same. Draw the highlighter art by turning off the normal lights and turning on black lights. The art in room 308 was quite intricate when my friends and I were done. When the black lights are turned off and the normal lights turned on, the highlighter disappears. Turn the black lights on and feel like you stepped into a Jimmy Hendrix black light poster.
2comments
Posted by Doug McCaughan in : Daily Life, History

, 11comments
I'll update this as I find older. So far the oldest evidence I can find of myself on the Internet is an Oct 31, 1991 email recording my YES vote for the creation of the rec.juggling usenet group.
I sent my first packets of information over the Internet in the Fall of 1988. I loved Gopher and Archie and Veronica. I thought IRC was the second best tool in the world with USENET being the greatest. I avoided MUDs fearing they would cause me to fail out of school. I missed the boat on Mosaic writing it off as a bloated toy.
11comments
Posted by Doug McCaughan in : Environment, History, Of Interest, Touchy Subjects

, 3comments
I am excited beyond words. Today, I received my phone call explaining that my family may be one of the fortunate families picked to participate in the Great Smoky Mountains National Park re-dedication ceremony as part of the park's 75th anniversary celebration! I've stood where Franklin D Roosevelt dedicated the park on September 2, 1940, "for the permanent enjoyment of the people" and tried to imagine that day. It will be such an honor to be at Newfoundland Gap on September 2, 2009 for the re-dedication if we actually get tickets. The thought puts butterflies in my stomach.
I was born on the coast of North Carolina and had the good fortune to make several trips to the Great Smoky Mountains National Park (map) as a child. I have fond memories of climbing up to Clingman's Dome and looking out over the park's lush green forest. I did not see the park for most of my teen years. When I became a student at the University of Tennessee in Knoxville, I revisited Clingman's Dome to be dismayed at the devastation of the Balsam Woolly Adelgid. The park became my Walden Pond where I escaped for inspiration, adventure, and respite. Over the years, I made many journeys with friends and solo. I've watched the sun rise from atop the Chimney Tops and skated down solid ice with a burned out flashlight on a Alum Cave Bluff night hike in January. I've laid in the back of a pickup truck at midnight in a trail head parking lot staring at the Milky Way in awe only to be blinded by a park ranger's spot light wondering what I was doing. I was privileged to watch a homemade video by mutual friends of the last caretaker of the Wonderland Hotel as he told stories about the trains which would bring the visitors to the hotel. Another old timer chuckled and shared a story with me once. Said he was on a Cade's Cove tour and the guide pointed to a nook in the wall incorrectly conjecturing to its purpose. The old timer explained, "I'll tell you what it was. That was the family's [he said their name] store and there was a tin can in that nook with a string that went to a tin can in the house so that people picking stuff up from the store could talk to them." He spoke with authority. I nearly stepped on a copperhead, a black snake and I shared the trail for a bit, and I've passed a rattle snake sunning on a log. I've been nose to nose with deer, smelled bear, and watched many other creatures. My adventures in the Smokies have been awesome. I've driven Rich Mountain Road so fast that Bo and Luke Duke couldn't have caught me (okay, not a proud moment but I had the groom in the Jeep, got caught in Cade's Cove traffic and wasn't about to make him late for the wedding). Streams and waterfalls have been swum. I've seen a lot of the back country. Greenbier is my favorite. I'd camp down an old railroad bed with its hard to find trailhead hidden beside the ranger's house. I never did find the old steam engine in the gorge. I was with the oldest ranger in the park when she told a group of girl scouts about the land she lived upon as a child. We then went across the street from the Sugarlands Visitor Center and hiked the nature trail on what used to be her family's land.
The Great Smoky Mountains Natural Park has so many treasures from stories to adventures to nature to science to spirituality and so much more. Visit this park as often as you can. You won't be able to get enough!
The Tennessee Tourist Development Commission proposes this pledge to all Tennessee tourists, whatever their interests:

"Take nothing but pictures;
Leave nothing but footprints;
Kill nothing but time."

[Source, Robert E. Hershey, State Geologist, 1980, Forward:Caves of Tennessee p.viii]
3comments
Posted by Doug McCaughan in : History, Humor, Of Interest

, 1 comment so far
This brings back memories. I have no idea where I learned this but when I was 11 or 12 years old, a friend or my brother and I did this. Cars do slow down! But for the record, eventually an angry man gets out of his car and rips you a new one.

EMBED-Invisible Rope Prank II – Watch more free videos
1 comment so far