"Murphy was an optimist!"
Posted by Doug McCaughan in : Daily Life, Family, Noah, Of Being Dad, Of Interest, Scouts

, 3comments
Two of the scouts in our troop fell ill. In swine-flu paranoia, our troop was quarantined and are being sent home early. Instead of taking the two sick children to the local hospital for confirmation of the nature of the illness, the camp isolated them in the health lodge and confirmed our scouts to their camp. I do not know if today's activities were canceled. I suspect that Noah only gets 1 out of 3 days actually riding a horse, an activity he paid extra for participation. I feel Noah was cheated. Not over the horse but for potentially losing all of today's activities, for being separated from the rest of the camp unable to dine in the mess hall or participate in the week's ending ceremonies, for losing all of tomorrow's activities, and for losing Saturday's morning. I understand risk management. I understand the need to prevent a flu outbreak. I also understand the importance of living our lives in a non-reactionary, logical way. My initial feelings are this was handled wrongly. I'll learn more tomorrow.
There is reason for the paranoia. The WHO has declared that the H1N1 virus is "unstoppable" and that every country needs to vaccinate its citizens against the swine flu. Interestingly enough, the WHO is no longer counting individual cases. Anyone need a mask
?
Update 17 July 2009: The quarantine has been lifted. The temperatures on the two sick children came down which is not typical of h1n1. Those boys went home last night and this morning no one else showed any symptoms. Good call CDB!
3comments
Posted by Doug McCaughan in : Amy, Daily Life, Family, Noah, Of Being Dad, Of Interest, Scouts

, 4comments
The 13 year old boy left this morning for a week of adventure including fishing, orienteering, rock climbing, wilderness survival, and canoeing at Boy Scout Camp Daniel Boone. The 7 year old girl left a few minutes ago for 3 days of adventure at Girl Scout Camp Tanasi. They are both thrilled. I wish I could be with them to see their happiness, watch them work through their fears and learning, hear their giggles, and to get some camping in myself. I know they will both have a fantastic time!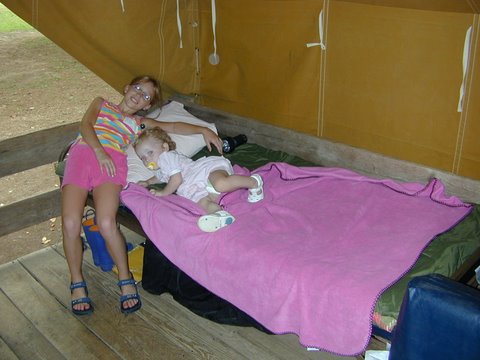 Sarah comforting Amy during Amy's first trip to Tanasi
4comments
Grub Master April 17, 2009 9:30 am
Posted by Doug McCaughan in : Daily Life, Family, Noah, Of Being Dad, Of Interest, Scouts

, 6comments
I was in front of my computer roughly 17 hours yesterday. Most of that was actually typing code. I am a Assistant Scout Master for my son's Boy Scout troop although lately I have passed on meetings and activities in lieu of working. I skipped Monday's meeting only to find out my son volunteered to be the grub master for this weekend's trip. The way our troop works is one scout buys all the food for his patrol and is reimbursed. The idea is that the patrol plans the meal then the scout works with an adult to calculate portions and costs and buy the appropriate supplies. It is a good activity for developing their planning skills. The grub master should check the food pantry in the scout room for existing supplies (which I'm certain my son did not do). Unfortunately my son did not check with my secretary to see if I had one iota of spare time for this activity. Since their trip begins at the church at 5:45 today, Noah gets home from school with little time between school and the church, and Cathy will be doing her weekly trip to the Kentucky border this afternoon, I find myself faced with taking my lunch hour now to do Noah's shopping for him. I should add that I don't even get to go on this trip! (I very badly need a camping trip) This weekend they get to go to a fishing camp, clean and debone their food, cook it, and choose to eat powerbars instead.
6comments
Posted by Doug McCaughan in : Christmas, Daily Life, Family, Holiday, Of Being Dad, Of Interest, Scouts

, add a comment
Wife ill. I have sent her to bed. Afternoon activities: program (finish a database audit trail system ie. track who makes all changes to the data, and finish a search engine), cook brownies for tonight's Boy Scout Christmas party, pickup high school girls from school, buy ornament hooks from AC Moore so we can finish our advent calendar and let the children begin the Christmas countdown (aka this year daddy has his stroke). Maybe feed the children (which may involve a trip to the grocery) – there is some debate as to whether or not tonight's Christmas party has real food (figure that out). Clean and prepare the children for tonight's activity. And be kind to the wife and check on her to make her comfortable. That's it.
add a comment
Posted by Doug McCaughan in : Food, Health, Of Interest, Scouts

, add a comment
I'm trying desperately to get some major code knocked out today. But the day has begun with me listening to hold music which cuts my coding rate in half. I hate having to sit on the phone.
Late this afternoon, in a panic, I will pack for a weekend of camping with Noah and Sarah. This weekend is our Scout troop's Thanksgiving camping trip. Families are invited and we will cook a turkey and ham in a cardboard box oven. The scouts will build catapults and play games including shooting water balloons at the adult leaders. I have skipped the past 4 months of events. Since my daughter is attending and I think I have taken a bit of ownership on the catapults, I have to be on this trip. Besides, I really miss the camping plus getting into nature dramatically improves improves cognitive function in the brain.
Update: Important phone calls complete. Important email sent. Distracting Internet outage resolved. Cat about to be flung across room. Bug in my code fixed. Moving onto feature requests.
add a comment
Posted by Doug McCaughan in : Of Interest, Scouts

, add a comment
Today I'm helping cut down some cedar trees for the Boy Scouts. At next weekend's camping trip, we will be building three catapults. Two kind people have each offered to let us harvest 6 trees from their respective groves. Each catapult requires six 15 foot long spars no bigger than four inches in diameter meaning we have materials for 2 out of 3 of the catapults.
If you are in Knoxville, and have a cedar tree or two or six that you wouldn't mind us cutting down, please let me know. And thank you!
Update: To prepare for next weekend's camping trip, our troop's Scout leaders met from 7am-8:30am. One volunteered his truck but no one could volunteer additional labor so the tree harvesters were our Scout Master and me. By 10am we had the truck and were at the first cedar grove to pick up the trees that were felled Thursday late afternoon but had to be left since there was no truck to carry them. The property owner asked that the spars be hoofed out because of Friday's rains. He didn't want ruts left in his property. After a bit of friendly chatter, the spars were loaded and we were off to the ranch with the next cedar grove. The first property was younger trees and dense. The second property was older trees and more sparse. The owner offered to let us get enough trees to make 2 catapults but toward the end of the day we were wearing down and felt we had thinned the trees enough. We stopped short of what we thought we needed. Once back at the church, we unloaded the trees, returned the truck then came back to the church to size the spars. As it turns out, we harvested exactly the right amount of cedar trees to build three catapults. This wood should last several years and allow the scouts to build many catapults and monkey bridges. We wrapped up at 5:30pm. My thanks to these generous property owners!
add a comment
Posted by Doug McCaughan in : Daily Life, Of Interest, Scouts

, 3comments
Last night I took a break from programming to do something important to me. As a Boy Scout Leader, I mentor boys between the ages of 11 and 18 to help them develop life skills and build character. I have skipped the past 3 meetings or so to work as well as the past couple of outings. Scouting is a volunteer organization in which you practically pay to participate. The activities are often expensive and there is enough training and time sinks to turn Scout leadership into a full-time job. There are professional Scouters and I personally think that would be a blast! I derive as much from the Scout program as the boys. My leadership skills stay sharp and grow better. I am reminded of my lessons as a Scout in wilderness survival, first aid, and just being a good person. I also learn new skills, particularly cooking. I work with a great group of intelligent, achieved adults and the boys in the program are outstanding. These are our future leaders!
Cliff Stoll implored us to "teach a class" and he was meaning to take 4-5 days a week and teach children in a classroom setting. Scouts does not meet his 4-5 day request but is still teaching. I relate to Clifford Stoll's meaning. I hope you too teach children in some way be it Scouts, Boys and Girls Club, a church, or just interacting with them in your neighborhood. Be a mentor!
3comments
Posted by Doug McCaughan in : Daily Life, Family, Noah, Of Being Dad, Of Interest, Scouts, Tommy

, 3comments
I have made a commitment to my children, the Boy Scouts of America, and myself to get out in the wilderness periodically. Often these are weekend trips. Occasionally these are longer. Noah, Tommy, and myself, along with fifteen other people, just spent 5 days in the Okefenokee Swamp. We camped on Mixons Hammock. We canoed upstream into strong head winds for 3 miles to Billys Island to see the ghost town (complete with a school, church, theater and more) where 600-800 people lived while the swamp was logged from 1909 to 1927. Billy's Island showed the most evidence of the fire that began on May 5, 2007. We also canoed The Narrows to see the head waters of the Suwannee River. (see the canoe map of Okefenokee Swamp).
The mosquitoes were horrible. Noah came within 2 feet of absentmindedly stepping on an alligator as he ran toward his friends yelling, "whatcha lookin' at?" The raccoons were bold coming within 10 feet of people. A snake visited the camp and decided to nap under Tommy's tent. We saw alligators, vultures, woodpeckers, red tailed hawks, frogs, frogs, and more frogs, lizards, snake, raccoons, turtles, fire ants, red ants, a mouse (canoed down the Narrows with us), and plenty of mosquitoes. Meals were delicious. The company was excellent with stories and guffaws. Burn cream was administered for bare feet near the fire and sunburn on the skin. Cuts were mended and headaches treated. Overall, no one sustained any substantial injury. I think everyone had a great time. This was my second year in the Okefenokee. I look forward to more!
Now I have to compress 3 work days worth of work as well as administrative duties into a single afternoon. It was worth it!
3comments
Posted by Doug McCaughan in : Daily Life, Scouts

, add a comment
Our Boy Scout troop meets Monday nights. This coming Monday, we had an instructor arranged to come in, show the boys some equipment, talk about safety, and so forth for 20-30 minutes. Our meetings in March are supposed to be focused on climbing so that our camping trip in April can be to do some outdoor rock climbing. Our instructor has a conflict. So on 2 days notice, I need to find someone that could talk about rock climbing, equipment, and safety for 20-30 minutes. Any suggestions? Email or call.
add a comment
Posted by Doug McCaughan in : Daily Life, Family, Noah, Of Being Dad, Scouts, Sex, Touchy Subjects

, 1 comment so far
Life is a comedy; And your children are the comedians!
Several years ago we stood on a cold soccer field to watch our child play a team sport. The parents lined one side of the rectangular field and the coaches and children, who were not currently on the field, lined the other side of the field. There was a port-a-potty in the parking lot but the children found it easier to slip into the woods behind them when their tiny bladders needed relief. You would see a constant stream (pun intended) of traffic in and out of the woods. Now I have a child who excels at minimal effort. This child has taken, not laziness, but using the path of least resistance to an art form! So there we sit on the sidelines with the grandparents, our friends, neighbors, and strangers–perhaps 50-60 in all. My son is on the sidelines at exactly the halfway point of the field. He spins around and without taking a step whizzes into the weeds. Everyone on our side of the field is staring at him simply by nature of watching the game! They'd have to turn their chairs around to not see the golden arch emanating from my child's crotch. Girls don't do this! Or perhaps they do and are simply more subtle or I'm oblivious.
You would think over the years either my child or I would have learned. He continues to hone his least resistance skills constantly finding new ways to make the minimal effort. Mind you, that does not mean he does poor work.
Some people see Boy Scouts as a paramilitary, religious organization; I see Boy Scouts as a character building, skill teaching, adventure seeking organization. During our open and closings of our meetings, the adults line one wall and the scouts line another wall. That puts roughly 17-24 boys ranging from 11 to 18 years old facing 6-15 adults. We had good numbers at this last meeting and there is my son, on the fifty.
I'll let you in on a male secret. Things shift. They shrink. They grow. They move around. They get pinched in the folds of underwear or find themselves in other uncomfortable places. Re-adjustment becomes necessary! And if pain is involved, sometimes, hastily. Just because "he" dresses right doesn't mean he's always dressed. Guys have developed techniques for dealing with these situations. Some blatantly grab the outside of their pants and adjust but try to cover by making a mafiosi, Eddie Murphy, or Michael Jackson reference. Most guys start of by trying some hands off, Elvis style hip shaking to see if things will naturally fall back into place. If both of these fail, we resort to using the pockets. The one pocket approach is typically fine but to be certain that the issue is resolved and resolved quickly, the two pocket approach is preferred. Both hands are shoved deeply into the pants pockets. This looks like we are simply cold and trying to warm our hands, and perhaps our elbows. Search and rescue teams are sent out and our friend in need is located. The hand who finds our friend quickly sets to work repositioning using a backboard if necessary. Typically we shoot for a centering then let gravity find the perfect resting place. The other hand lay in wait in case we overshoot or gravity finds us in another pinch. The whole process is about as subtle as Mark Roberts at Wembley. However, when done correctly, to an observer it should look like we've simply lost our keys.
During our Boy Scout meeting closing, solemn things are being said and I see my son do the double dive. Both hands in pockets. Bulging knuckles clearly removed from anywhere keys would fall. Oh no! He's picked up the bat and is playing pocket ball with all adult eyes in his direction! Puberty has turned off his brain! Get the crash cart! I am fairly certain that when the Scout Master said to stand at attention that is not what he meant! What to do? Talk to all the Scouts about the 12 laws and how grabbing yourself in public probably breaks all of them? No. Must be more subtle. Telepathy! I give him a quick stare down and remarkably his eyes meet mine. It worked! My lecture about "happy time" being private silently permeated the air and he got the message. He removes his hands from his pockets and Dad pockets a story to pull out at dinner time which is guaranteed to have milk squirting from noses. Now how's that lesson go? Oh yes, "if you shake it more than twice, you're playing with it."
1 comment so far
Posted by Doug McCaughan in : Of Interest, Scouts, Touchy Subjects

, 2comments
Looks like Philadelphia is pressuring the Boy Scouts of America to accept gay scouts. This will be interesting to see how it pans out.
PHILADELPHIA – The city has decided that the Boy Scouts chapter here must pay fair-market rent of $200,000 a year for its city-owned headquarters because it refuses to permit gay Scouts.

The organization's Cradle of Liberty Council, which currently pays $1 a year in rent, must pay the increased amount to remain in its downtown building past May 31

…

The Supreme Court ruled in 2000 that Scouts, as a private group, have a First Amendment right to bar gays from membership.
2comments
Posted by Doug McCaughan in : Daily Life, Of Being Dad, Of Interest, Scouts

, add a comment
I was debating not going on next month's boyscout outing. I enjoy the outings very much! But they can be expensive and money is heavy on my mind right now. I came to my senses and decided not to deny the boys. As a matter of fact, I've offered to include Sarah in the weekend's activities. So next month, Tommy, Noah, Sarah and I will go to Camp Pellissippi for a canoe derby. We will have canoe racing and see how many people we can fit into a single boat and so forth. It should be much fun.
Scouting is very safety conscious. To do activities like this in scouting requires a medical form stating one is in good health. Water activities require a swim test within the past 6 months. My test was this morning. Just before I got in the water I slammed down my last swig of coffee. I had to do 6 laps with power strokes and then 2 laps with a resting backstroke. I was doing fine and had the lungs and strength to do a lap without even raising my head although my 2nd and 3rd lap included taking breaths just to not wear myself out. At the end of my 3rd lap, it hit me! A feeling like indigestion! I couldn't get a full lung of air! What I wanted to do more than anything in the world was a world class belch! Have you ever had one of those? Maybe you just chugged a carbonated beverage and then you feel the need to burp but its stuck in your chest just below your sternum? If you can only work it out, the reverberating bass tones emanating from your mouth surely would shake walls and register on the Richter scale. Those last 3 laps were horrible. I wanted to be polite and not burp but I wanted to be able to get some air and not look like I was struggling to do a simple swim. What a terribly uncomfortable feeling!
I passed. I blame the coffee for the tough moment!
add a comment
Posted by Doug McCaughan in : Daily Life, Family, Of Being Dad, Scouts

, 2comments
Since I did not get my work finished this weekend, I did not get to take time today to fix up my bike (which looks like a pile of rust anyway). We rushed to get dinner made and for some odd reason the taquitoes didn't cook so no one ate. We get down to the head of the bike trail at 7pm, the normal scout meeting time, and we see evidence of our Scouts but no Scouts. Obviously they met earlier. We just never saw an email. Turns out they met at 6 and rolled out at 6:15. We arrived at 6:55. We drove for 30 minutes searching the trail and finally returned to the finish line to let Noah, Amy and Evan ride the trail. We got to see a train and wave at the engineer. They had a blast and eventually the Scouts returned. Molly wrenched my arm out of socket but we also got some good sprinting in. I need more regular exercise like that. Unfortunately, I'd planned the evening to be coding. Now I'm just tired and sore.
Can I possibly correct the mistakes I have made within this lifetime?
2comments
Posted by Doug McCaughan in : Daily Life, Of Interest, Sarah, Scouts

, add a comment
Kill some birds?! From 11am to 2pm we will be at the Bearden Middle School courtyard cleaning out the gardens, washing walls, and bashing cement with sledge hammers. Feel free to join us!
add a comment
Posted by Doug McCaughan in : Daily Life, Family, Noah, Of Being Dad, Scouts

, add a comment
Tonight's den meeting was a blast! I really enjoy watching the scouts have a good time. We made 2 liter bottle rockets! They worked great.
We used this design (may have to view it via Google Cache). Another good link and a variation (check out the launch mechanism on that one!). You can even add a parachute. I want to build the pvc launch pad.
add a comment