"Murphy was an optimist!"
Posted by Doug McCaughan in : Software, Technology

, add a comment
Dreamweaver has never been one of my favorite editors. I believe the following error is due to an improper shutdown.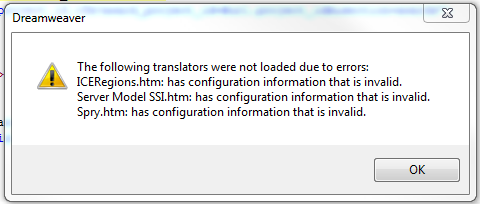 The following translators were not loaded due to errors:
ICERegions.htm: has configuration information that is invalid.
Server Model SSI.htm: has configuration information that is invalid.
Spry.htm: has configuration information that is invalid.
From a quick Google Search, it looks like renaming the configuration file and restarting DW and/or the computer will fix things. I'll update shortly.
UPDATE 1: Reboot of system did not help. I'm using Adobe Dreamweaver CS4 version 10.0 Build 4117
Update 2: Renaming the configuration file to "configuration old" and restarting DW did the trick. See this forum, that forum, and this other forum (a list of potential directories).
add a comment
Posted by Doug McCaughan in : Programming, Software, Technology

, 1 comment so far
I think I've seen this and never paid any mind to it. How long Google had voice search on Chrome?

1 comment so far
Posted by Doug McCaughan in : Gadgets, Software, Technology

, add a comment
Dear Apple, when can I have the ability to prevent my children from moving or deleting items in my iOS device (iPhone, iPod Touch, or iPad)? I'd also like to give them the ability to use the device without accessing particular applications. I'm not asking for user profiles but at least give me the ability to demand a system password for moving and deleting apps and give me the ability to use the same system password to lock selected applications (or screens) so that my financial and business applications aren't accessible while they use their games and educational applications. Thank you! Doug, father to 5 children in a household of 4 iOS devices (and growing) that often change hands.
add a comment
Posted by Doug McCaughan in : PHP, Programming, Software, Technology, WordPress

, add a comment
Hello WordPress developers! (me included). When you make a theme, I implore you, please use a simple html comment at the top of each page to identify the template. For example: <!- – TEMPLATE: single.php – -> would allow someone unfamiliar with your theme to look in the generated source and see which template(s) are influencing the output. Yes, experienced WordPress developers should already know which files are being used but we don't write themes only for experienced developers. And even experienced developers get stuck, tired, or would like things to be sped along and a simple comment, <!- – TEMPLATE: page.php – ->, would help tremendously. Thank you!
add a comment
Posted by Doug McCaughan in : Communications, Software, Technology

, 8comments
I used to love SharpReader. I was using it before RSS was vogue. The difference between consuming information by going to individual webpages vs using a feed reader is like riding a bike on the Interstate versus driving a Ferrari. I had to give up SharpReader because it was tied to a single box and I'm not. I work anywhere and everywhere and I need to be able to access my data from any device. I switched to Google Reader and have never looked back. Unfortunately, I lost all the articles in SharpReader that I'd marked as a favorite during the transition.
As I scan and read in Google Reader I use the star to mark my favorites so that I can return to the article and read it again (not that I ever do). I rarely but once in a blue moon add an item to my shared items.
I've come to a point where my feedreader more resembles bookmarks rather than a useful way to consume content. Many of the feeds are dead or stagnant. I have some like Fark that I don't read anymore. Some have changed hands and are actually spam now. I'm going to drop my entire feed list. I'll export the entire list first and probably publish it somewhere for reference. My one concern is losing my favorites. I can find nothing that talks about whether or not there is a way to save my favorites and whether or not removing a feed that had something marked as a favorite will also delete that favorite. I'll experiment with it this weekend and figure it out.
8comments
Posted by Doug McCaughan in : Communications, Gadgets, Of Interest, Software, Technology

, add a comment
My iPhone refuses to upload a picture using the flickr app. It gets through 99%, reports complete, then says "Upload failed. Try later. Try again." Not much on The Googles about this. However, I believe the answer is in Flickr's monthly upload limit for free accounts. After upgrading to Pro, my upload worked flawlessly. To the flickr iPhone app developers, your error message needs to be altered to encourage the purchase of a pro account.
View pictures mainly from my iPhone at http://www.flickr.com/photos/mccaughan and see excellent photography from Cathy with a real camera at http://www.flickr.com/photos/domesticpsychology.
add a comment
Posted by Doug McCaughan in : Doug's Mantras, Philosophy, Software, Technology

, 1 comment so far
I'm a huge fan of Jott. I don't know how Siri (recently acquired by Apple) slipped through my radar. I now have Siri and am very excited. SpringPad and I have this oddly tenuous relationship which I'll explain in another post. I think SpringPad has incredible potential and should be appreciated by fans of Evernote.
Like Stephen R Covey's First Things First and David Allen's Getting Things Done, none of these tools do any good if you don't use them. And by use them, I mean fully. For instance, in Gmail I frequently flag emails to review later but then I may not review them. The same thing can happen with any of the tools above. I fill Jott with voice notes and text memos daily. Like sharpening the saw, a review is critical. One of my mantras is "15 minutes a day for proficiency." It comes from preparing for juggling shows. If I wait until the day before a performance and try to cram several hours of practice in, I don't perform well. If I spent 15 minutes a day for those same number of hours, I perform very well! That 15 minute mantra applies to all things in life be it learning a skill like guitar, a language like Spanish, losing that extra weight, reading a book, writing a business plan, or just keeping your life in check.
Trying to get organized while living our crazy lives often feels a bit like trying to balance your checkbook while going down a water slide. You can't do it and your checkbook gets really soggy. Feels like a catch-22; too busy to organize, must organize to not be so busy. That's were 15 minutes a day comes in. We can spend 15 minutes just staring into space. Even exhausted, we can muster 15 minutes. And now, I will spend 15 minutes reviewing my notes in Jott.
1 comment so far
Posted by Doug McCaughan in : Gadgets, Of Interest, Software, Technology

, 3comments
When my beloved Motorola v3xx bit the dust, I bought an iPhone with the promise to myself that I would use it as a business tool to facilitate building iPhone apps for my clients. I have not talked about my iPhone experience much but that's coming. In the meantime, know this: 1) Steve Jobs is a user interface genius! and 2) I love my iPhone!
Over the past few years, I endeaved to eliminate paper from my life using cloud tools such as Google Docs. The iPhone seems to be the missing link and has helped me take the last steps toward cutting the umbilical cord to paper. Meeting notes go straight to my iPhone. Todo lists, via Jott, straight into the iPhone. The iPhone has helped make my already digital world even more digital.
Now I need a secure password/data keeper for the iPhone. I'm considering SplashID, 1Password, and iAccounts. What are your recommendations?
Related: Best password manager programs for your MacBook and iPhone 3G
Review: Secret keeper apps for the iPhone
3comments
Posted by Doug McCaughan in : Announcements, Blog, Of Interest, Publishing, Software, Technology, WordPress

, add a comment
WordPress 2.9 includes built-in image editing and now videos can be embedded simply by putting the url of the video on its own line in the post with Oembed support and more. Update your WordPress blog soon.
[Source]
add a comment
Posted by Doug McCaughan in : Software, Technology

, 5comments
My computer experience looks a little like this: Atari 2600 -> Atari 400 -> Timex Sinclair -> Commodore 64 -> DOS boxes -> Apple ][ -> Apple ][e -> Apple //c -> Macintosh Classic -> Solaris workstations, AS 400, Next Box, CM5, VAX, ramdom flavors of Unix machines -> Mac Performas (etc), PCs (Windows 3.1, 3.11, 97, 98, 98se, Windows 2000 server, XP, Vista, 2003 (blah blah name it) -> Linux (Ubuntu primarily). In the end I find myself surrounded with PCs with loads of Microsoft software. So everything I write is dependent upon the Microsoft Office suite, software I install requires Windows and so on. Granted, I have Linux development servers because much of my work is in a LAMP environment. That is until my primary machine died horribly and while I was recovering it, I was forced to spend most of my time on my Ubuntu workstation.
After working for a couple of weeks on Ubuntu and relying heavily upon Google Docs, I learned that I love cloud computing. Cloud computing is using applications that are primarily accessed over the Internet. Twenty years or more ago, Bill Gates said this is how all our computing would be and that PCs would revert to being dummy terminals. The nice thing about cloud computing is your data is accessible anytime, anywhere, from any machine, as long as you have an Internet connection; this is also the bad thing. Your data is exposed to 3rd party companies that may go out of business or change ownership or malicious people may find ways to expose your data to the world. You must weight the risk versus the benefits.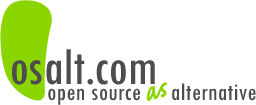 Another option is open source software. Many alternative software directories are ready to help you find a free alternative to the commercial software you love. My favorite is osalt.com. For example, search Photoshop, osalt points to GIMP. I've been using Quickbooks Pro since 1999 (actually earlier but 1999 was my most current version). So for 10 years, I have used financial software that was out of date. I cannot find the discs and desperately need a new solution. Many exist! including buying the current version of Quickbooks. A search of osalt found PostBooks which is free although some people are confused by their commercial offerings. Don't be quick to discount open source software just because of the price. Free does not mean bad. For instance, I now favor GIMP over Photoshop in some instances. Soon I may wonder why I ever used Quickbooks.
Do you have any experience with Postbooks? Your thoughts?
See also GNU Cash h/t Jonathan Hickman of traveling at godspeed.
5comments
Posted by Doug McCaughan in : Blog, Publishing, Software, Technology, WordPress

, 1 comment so far
If you are trying to use the Wibiya Toolbar on your WordPress blog, but it will not appear, try editing the Wibiya plugin and changing the code from:
add_action('get_footer', 'filter_footer');
to:
add_action('wp_footer', 'filter_footer');
1 comment so far
Posted by Doug McCaughan in : Software, Technology, WordPress

, 1 comment so far
If you go to your WordPress blog's login page in the Google Chrome browser, type your username and password, and get kicked back to the login screen without an error message, try opening a new tab and logging in from that tab. Seemed to work for me. I also cleared my cache but that did not seem to have an impact. The new tab fixed the problem for me.
1 comment so far
Posted by Doug McCaughan in : Daily Life, Software, Technology

, 4comments
After fighting with trying to clone my old 60 GB hard drive to my new 500 GB hard drive, I finally gave in and started from scratch. Since I was installing from Windows XP sp1 I was limited to 137 GB partition. Once Windows XP installed successfully I upgrade to sp 2 then sp 3 and installed all security patches and updates. Then I began reinstalling software beginning with Avast antivirus first quickly followed by iTunes.
Everything seemed to be going very well until I decided to actually switch back to working on the machine. I tried to remap my development servers but cannot browse my network. I get the error message:
WORKGROUP is not accessible. You might not have permission to use this network resource. Contact the administrator of this server to find out if you have access permissions.

This list of servers for this workgroup is not currently available
Guess I'm network troubleshooting this weekend.
Update: I made an important discovery today. None of the computers in the house see each other anymore. I used to be able to open Windows explorer and browse to My Network Places then to Entire Network then to Microsoft Windows Network then to MSHome (the workgroup) then to a specific machine that was visible on the network. However at the workgroup level the error message above occurs. I thought it was specific to this Windows XP machine but I reproduced it on another Windows XP machine. Then I tried browsing the network with Windows Vista and also could not see any of the LAN. So on my newly installed Windows XP machine, I tested pinging various machines on the network with success. So in Windows Explorer I typed a machine name and a known shared directory "\\mickey\www" and successfully browsed the remote directory. I then successfully mapped the drive. On my Ubuntu Linux 8.04 workstation, I clicked Places then Network Servers then Windows Network and get the message "Unable to mount location – failed to retrieve share list from server" which in the past would have simply listed all the devices on the local area network.
4comments
Posted by Doug McCaughan in : Software, Technology

, 4comments
Does anyone know how to force Windows 98 to install to a different drive letter than C? I need my Windows XP installation to be the E drive. I've run out of tricks.
4comments
Posted by Doug McCaughan in : Daily Life, Hardware, Software, Technology

, 2comments
I primarily work with people who have clients that need digital magic to happen. The tag line on my business card is "I solve problems". For the longest time, I was drawn to projects that started off with descriptions like "We've had 3 other developers fail to get this done" or "That expert in Florida says this can't be done." I liked these projects. I liked the challenge and I could usually get it done. However, they are high risk and often not very profitable. Usually the reason three other developers fail to accomplish the task has less to do with a programming problem and more to do with a management problem. It is hard to pay the mortgage with "man that felt good!"
I still work with people who have clients that need things done. Effectively I build web applications for businesses but I usually go through a middle (wo)man. In the past this middle person has been a venture capitalist trying to launch his clients with the greatest of success. It has been other developers with too much on their plates. Most often, designers/artists that need functionality programmed into the website. Imagine you had a bookstore and wanted to sell your books online. I'd be the person who writes the shopping system that allows your customers to browse books online, add them to a shopping cart, and make the purchase online. The part of a website like that which most people never see is the inventory control part. That's where the employees log in to add or remove books from the system. It's just a big a project as the front end where the shoppers go but instead of thousands of people seeing it, 2, 3 or 10 people use it. Of course, you cannot sell books online without a tracking system for shipping so I would write the code that generates shipping labels, ties into UPS or Fedex or the post office, and tracks the packages. Then if your bookstore decided that it wanted to manage it's human resources through the web with a punchcard system for managing when employees clocked in and clocked out, scheduling of employees, and payroll (tying the system into Quickbooks), I'd write that. Next if you decided the punchcard system wasn't efficient enough and you wanted the employees to wear RFID id badges and used those for clocking in and clocking out, I'd write that.
Now there isn't a computer person alive before the time of the Geek Squad who didn't say, "wow! I need to create a business repairing people's computers." The Geek Squad was not an original idea. I know I had the vision of teams of nerds running to people's homes fixing computers. I did it for awhile. I know I have friends who had the same vision. But Best Buy had the resources that we lacked to launch. Tthere is not profit in repairing computers. Computers have become disposable. What holds value is data. If people would move their work primarily to The Cloud or create and understand a backup system that removed the dependence upon a particular machine, then instead of paying a geek to repair your computer, you could just buy a new one! The Geek Squad doesn't make money on repairs. It makes money on upsales. When you get a repair and they sell you an Antivirus program or a new hard drive or another memory stick then they make money.
I do fix computers for friends and family. I charge a flat rate of $135 which is less than what you will pay the Geek Squad. I don't know if it is true but I've read that the Geek Squad will also put in a limited number of hours and then declare that the computer needs reformatting. I won't do that. Usually I put 5 hours into a machine plus I run some diagnostic software overnight and dust out the computer. It's a nice thing to do on a weekend. My effort amounts to substantially less than I charge hourly for programming but there is a good karma to making sure someone's computer is functioning correctly.
However, sometimes I get bitten. I took in a friend's laptop because it was hanging/locking up. I was thinking some malware had a hold of it. A week later the computer is still with me and starting to get in the way of my real work and my friend is becoming frustrated. It may have some defective hardware but the diagnostics I have run have not found any physical problems. It might be a driver problem but downloading the latest drivers from the manufacturer's website didn't help. This is a Dell Inspiron 1525 running Vista with service pack 1. Any attempt to install service pack 2 takes an hour to install and at the very end of the process, the installer announces "failed" and reverts back to sp1. Right now I'm sitting on a BSOD:
A problem has been detected and Windows has been shut down to prevent damage to your computer.

IRQL_NOT_LESS_OR_EQUAL

If this is the first time you've seen this Stop error screen, restart your computer. If this screen appears again, follow these steps:

Check to make sure any new hardware or software is properly installed. If this is a new installation, ask your hardware or sofware manufacturer for any Windows updates you might need.

If problems continue, disable or remove any newly installed hardware or sofware. Disable BIOS memory options such as caching or shadowing. If you need to use Safe Mode to remove components, restart your computer, press F8 to select Advanced Startup Options, and then select Safe Mode.

Technical information:
*** STOP: 0x0000000A (0x00000018, 0x00000002, 0x00000000, 0x81C590FC)
This screams bad hardware or a bad driver. However, I've read that this goes away by installing service pack 2. That would be the thing that installs 100% then reverts back to service pack 1. Oh the irony!
2comments