"Murphy was an optimist!"
Posted by Doug McCaughan in : Announcements, Bargains, Of Interest

, trackback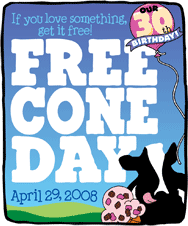 All hail the great Ben and the wonderful Jerry! In celebration of their 30th birthday, Ben & Jerry's is giving way free ice cream today! Remember, they also offer free wifi access. Find a store near you. You can bet our horde will be there late this afternoon ruining our dinner.
Ah! Look at the ice cream love in those eyes! Read more at Domestic Psychology.
trackback