"Murphy was an optimist!"
Posted by Doug McCaughan in : Cathy, Daily Life, Family, Halloween, Holiday, Thanksgiving

, 2comments
Because I posted this picture instead of that picture Cathy took a picture of me in 40°C or 50°C weather when I took a quick moment to decorate our skeleton.
2comments
Posted by Doug McCaughan in : Halloween, Holiday

, add a comment
Cathy has the pictures.
We had a miscommunication with the 12 year old boys. Noah wanted to be with his friend so we dropped him off but the boys thought we were going to do his friend's neighborhood then go to our traditional trick or treat spot. When we drove away, they didn't call to ask about our plan nor did they call to tell us they were done with that neighborhood and ready to join us. Cathy made amends by purchasing a bunch of sale candy after midnight and stuffing the boys bags.
add a comment
Posted by Doug McCaughan in : Halloween, Holiday

, 3comments
So last night (Tuesday night) was interesting. Cathy and Amy drove to the high school around 4pm to pickup Sarah and shoot across the street to Party City for Amy and Evan's costumes, only they were out of Evan's size. They returned home for a quick freshening up before having to rush Sarah to a 5:30pm color guard practice at Hardin Valley Academy. Since I was supposed to be running the Knoxville Asperger Support Group at 6pm, and we only have one functioning vehicle, I felt it prudent that I drive (plus the girls were tight on time and I have this way of bending space and time…more through backroads and minding the traffic patterns than speeding mind you). We got Sarah to Hardin Valley on time and waited 15 minutes for her to give us the thumbs up that she was situated. We drove off with me hoping to get to the support group meeting just a couple of minutes late and Cathy hoping we'd skip the support group meeting and go to Party City in Turkey Creek instead.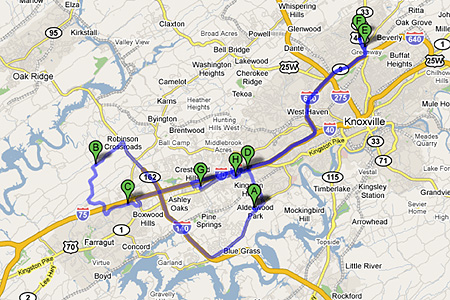 Naturally we ended up at Party City where I bumped into a familiar face (but that's for another post) and the signs indicated they had not sold out of the toddler sized pirate costume! Yea! But the employee came back to say they had none. Boo. BUT! The computer indicated that the Broadway store had a single one left. For those that don't know the area. From our house to Hardin Valley is pretty extreme. From Turkey Creek to Fountain City are exact opposite corners of Knoxville. After several hangups and infinite holds, the Turkey Creek employee finally convinced the Broadway employee to put the costume on hold. As I leave the store, an employee is telling another employee who is on the phone with a customer, "No way! We don't put any costumes on hold two days before Halloween."
Cathy puts an SOS out on Twitter. As we drive toward Fountain City, someone alerts us that there is a temporary Halloween store in West Town Mall. We are just reaching that exit so we pull off the Interstate and into the mall parking lot. I slow to 5 mph and push Cathy out the door. I circle the parking lot to keep the antsy children calm while Cathy discovers the costumes are far superior in quality to Party City, but alas, no toddler sizes.
We return to the Interstate and rush to the junction of Old Broadway, Tazwell Pike, and Broadway. After a painfully long wait, we screech across the 4 lanes of Broadway and into the Party City parking lot. Upon entering and saying I have one on hold, the costume people look at me like I'm crazy. A helpful employee comes to my aide and tracks down the costume held in my name. It is indeed the last toddler size pirate costume in the store. I quickly purchase it and go to the car. Cathy points out that it is a 2T! Ugh. We needed a 4T. I go back inside and they are quick to point out the no returns policy but I get a full refund anyway. A giant billboard over Party City says there is a costume store at North Peters (for you outta townies, that's pretty darn close to Turkey Creek).
The children are getting surly. We grab McDonald's and allow the necessary potty breaks.
We drive from BFE East to BFE West and find the North Peters store. It blows all the other stores away! Great displays and wonderful stuff but no toddler pirate outfits. They confirm that I have been to every possible costume store in town. Dejected, we decide to return home.
As we come off the Interstate at West Town Mall, we decide to check Target, a mere 3½ miles from our house. We find the best Captain Jack Sparrow costume in Evan's size and it was on sale at 30% off! It only cost a quarter tank of gas and 4 hours of driving. We even remembered to bring Noah home!
3comments
Posted by Doug McCaughan in : Daily Life, Halloween, Holiday

, 2comments
Last night we had a wonderful time. Since our neighborhood is historically dead, we go to a friend's neighborhood which is Pleasantville perfect. Our zombie horde dragged their feet and moaned their way into a Pleasantville street party. All the neighbors had brought food out ala potluck and one neighbor hired a dj to play music allowing the children to dance in their driveway. The street was packed but opened up as a tractor pulled a hay ride into the cove. The "hey ride" shuttle circled the neighborhood for a couple of hours giving young tired feet a fun rest. Our four zombies (one, two, three, four) where accompanied by a friend zombie and German shepherd, a poodle, mini-Shaun, and me.
The neighborhood was ideal with neighbors socializing and laughing, people crowding the streets, no one getting angry as children cut through yards and landscaping. I didn't see the slutty outfits that we experienced last year but we did arrive earlier this year. Everyone was so friendly and many houses were decorated for the scene. One even had a rock band playing at stadium volume.
The 17 year old and 5 year old wore out quickly. The 2 year old would tire then find another wind. When we stopped trick or treating for the evening, I think he could have kept going but was really done. The two teen girls could have gone all night and the pre-teen boy found a friend's house and could have played all night. I was attacked by Zombies. One adult identified me and cackled. A teenage boy laughed as he identified me and declared me to have "the coolest costume ever!" And I think one other person got it with a chuckle but only have being clued in during an explanation to a little girl about the blood on my shirt "There's zombies everywhere! I'm being chased by zombies. Heading to the Winchester!"
Update: We've receive honor from Barry for Picture of the Week! Thanks Barry!
2comments
Posted by Doug McCaughan in : Halloween, Holiday

, add a comment
Trick or treat! See also.
add a comment
Posted by Doug McCaughan in : Halloween, Holiday, Of Interest

, add a comment
As a reminder, Google has Ebooks for Halloween. (direct link to Halloween ebooks) Read a spooky story!
add a comment