"Murphy was an optimist!"
Posted by Doug McCaughan in : Cathy, Daily Life, Family, Of Being Dad, Of Interest, Politics, Sarah, Tommy, Touchy Subjects, TV / Movies

, trackback
When Tommy declared, "There should be a law that you have to speak English in America." I ranted at him for half an hour. I didn't force my view upon him rather made an effort to open his mind to another perspective. I used examples such as "if you went to Spain, you should have to speak Spanish" and he'd retort "but I am not living there" so we went through what-if scenario after scenario and using examples such as the nice people who work at CiCi's pizza and do not speak a word of English yet they communicate with the patrons just fine. Eventually Tommy was begging to end the conversation and I released him content that maybe he'd heard something; more than likely, he will simply think twice before raising such issues in front of me again (which would be a shame).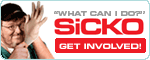 Since Tommy will vote for our next President, and since he gets plenty of far right opinion for other relatives, I felt it prudent that he and Sarah begin their political education. How fortunate that R. Neal of Knoxviews.com offered up some tickets to Michael Moore's Sicko! I'm sure their grandfather will deprogram them afterwards. It is not the point-of-view that I want to impress upon the children as much as I want them to appreciate that there are multiple ways to see a subject, multiple solutions to a problem, and that they should try to see everything as if they were in that other person's shoes. See you at the movie tonight!
trackback