"Murphy was an optimist!"
Posted by Doug McCaughan in : Robotics, Technology

, 2comments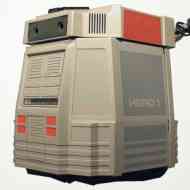 I tinkered with many gadgets as a child but it was in high school when I was allowed to skip out of my English class (1985-86) to sneak off to the advanced shop class that I was really bowled over. See, the shop class had a Hero. I had the privilege of participating in its construction and it left a lasting impression on me. Although I have never pursued robotics, the desire to get into robotics has remained in the back of my mind.

For 2008, Healthkit is reintroducing the Hero robot as HE-RObot! Our household so needs one of these! Noah has expressed interest in robotics and I think this is a golden opportunity to get him focused on a subject that could have him involved with the community (we have a club in town that competes at Lego Mindstorm designs), draw his attention in high school, focus him in college, and even possibly set him on a career path (provided he stays away from the iPix founders).
I also think this household needs a Lego Mindstorm and an iRobot Create. Yes, we have a hackable Roomba but the iRobot Create is intended for experimentation while our Roomba is intended for cleaning. We also need an iRobot ConnectIR (although I have a hard time looking at it and not thinking "the ultimate upskirt machine!" Who puts a camera on wheels at floor level?!)
The only problem with my desire to make 2008 the year of the robot for our house is that Evan is scared silly of anything electronic that moves on its own. He doesn't like his own remote control car nor does he like the boys remote control cars. They elicit squeals. He is fascinated with the Roomba but the minute it turns on he can break into tears. This boy is going to have to adapt! Challenge one: Make robotics fun for the two year old…
Thanks to Tom Maszerowski for posting about the HE-RObot.
2comments
Posted by Doug McCaughan in : Programming, Publishing, Technology

, add a comment
Web Strategy by Jeremiah Owyang posted The Three Web Activities: Task, Project, and Business Programs which I agree from the web management perspective. I think when building websites it is important to consider the 3 reasons users come to a website. My response to Jeremiah Owyang:
I agree with your breakdown from a web management perspective. The IT guy, the techie, the web programmer should be very focused on The Task, The Project, and The Business Program. With[out] those, the website fails to function.

I have a list of 3 which is about that function. My list is derived from the end user experience rather than the web management side. I address this list with my clients when they are trying to make decisions about their webite:
1. Information
2. Utility
3. Entertainment

That order is important.

People go to the web first for information (e.g. I want to call company X and need their phone number). I am astounded at the number of business[es] that make it difficult to contact them.

People go to the web secondly for utility (e.g. "I want to make travel arrangements" or "I need to do some online banking/bill paying")

People go to the web thirdly for entertainment (e.g. "going to watch the television show I missed last night," "watch some youtube," or "play some games").

I find businesses mistakenly want to build backwards thinking that if they first build something entertaining that will draw their audience in. Then they can provide utility (often associated with profit). And lastly, if they ever get around to it, information.

People will argue that entertainment should be first in the list but that is a delusion. We may spend more time on entertainment but most people go to the web for information first.

"Social media" is changing the equation slightly. Services like Twitter provide information, utility and entertainment in one fell swoop.

Links referenced:
Are you in The Converation?
Put @RedCross in your Twitter
add a comment
Posted by Doug McCaughan in : Daily Life

, add a comment
Household seems a bit irritable. Too many late nights for the children? Too much time together? The rain? I don't know.. but for my own sanity, I'm taking the wife for some shopping therapy.
add a comment
Posted by Doug McCaughan in : Amy, Cathy, Christmas, Daily Life, Evan, Family, Holiday, Noah, Of Being Dad, Sarah, Tommy

, 3comments
To all to whom I have not responded, thank you for your well wishes!
To all to whom we did not send a card, you were not forgotten! There was probably a technical reason like needed your address or my mad cow caused me to fail to get you on Cathy's master mailing list.
Miracles and angels came through to help pull together our Christmas at the last minute. The children were well gifted and very happy with their presents.
We had a wonderful visit from both sets of grandparents and Aunt Kelly.Cathy and I promised to be budget minded and agreed to not buy each other anything which is why we are both now the proud owners of new iPod nanos. We both cheated feeling the other was well deserving of a new toy.
Each year it seems one of the children gets a bum deal. This year it was Sarah's turn. Both Tommy and Sarah received new office chairs for their desks from their grandparents. They were thrilled! I prompted Tommy to hold off on assembly until I could help him. Sarah did not heed my warning and broken open the package of numerous parts in the midst of our unwrapping mess and started assembling without checking the parts list nor understanding the instructions. (She's going to drive like Cathy! "It felt correct to turn this way. NO! I didn't take a left turn at Albuquerque this time.") We could not find the screws! 6 screws AWOL. We even pulled the trash back inside and went through every piece of wrapping and package that had been discarded. Tommy learned and quickly went over his parts list only to find a critical piece missing. We quickly discovered his critical piece was already attached to his chair. It wasn't until a day later that Sarah and I drove to Home Depot and purchased bolts and washers that we realized her bolts were already in their respective holes.
We figured this out because we could not get the new bolts to go into them! Doh! She also received a Nabaztag but it still isn't working. Story to follow. which is finally working! After creating an account at Nabaztag, you can send a message to her rabbit over the Internet or with your phone and it will speak the message to Sarah. Oh, I almost forgot. When assembling the chair, Sarah dropped a heavy part on her foot breaking a toe. Poor Sarah!
The children had a fantastic Christmas and so did Cathy and I. Now back to work so I can finish paying off this one and put away for Christmas 2008!
3comments
Posted by Doug McCaughan in : Daily Life

, add a comment
And now back to our regularly scheduled programming…
add a comment
Posted by utterz in : Daily Life

, 1 comment so far
Audio clip: Adobe Flash Player (version 9 or above) is required to play this audio clip. Download the latest version here. You also need to have JavaScript enabled in your browser.
1 comment so far
Posted by Doug McCaughan in : Christmas, Communications, Daily Life, Holiday, Technology

, 4comments
"I don't get Twitter." That is said so often it should be put on t-shirts and bumper stickers. I have used the Red Cross as an example of a good use of Twitter. Now I get to point to Santa Claus! Santa Twittered his flight this year. It was phenomenal. He frequently reported his location and the amazing thing was that he responded to people! He has hundreds following him and he was following many of them in return. As busy as the night kept him, he still managed to find time to give personal responses to many people! I quipped that Valium or Vicodin would help with the holidays.
djuggler Dear Santa, Instead of candy this year, can we please have Valium and Vicodin in our stockings? Thx. "Oh stress levels are frightful..lala" 11:12 AM December 19, 2007 from web
Santa replied in a private message directly to me:
SantaClaus Tsk! Tsk! Santa can not deliver illegal items. What would itlook like to have Santa busted on his rounds? 09:08 AM December 19, 2007
I mentioned putting food on the lawn.
djuggler There is now more magic reindeer food on my lawn than I have grass! @SantaClaus and crew should be very pleased. And glittery. about 2 hours ago from web
And almost at the same time Santa posted (which could have just been a coincidence):
Thank you one and all for the wonderful treats you have left for the reindeer and me. It has really helped us to keep up our energy on … … about 2 hours ago from Snitter
His Twittering was informative, fun, personal, and a joy to watch. I only wish the children were using Twitter. Hmm. I suppose I could have threatened to text Santa if they were bad. Bet he would have responded too!
4comments
Posted by Doug McCaughan in : Christmas, Holiday

, add a comment
Seen on 1938Media
add a comment
Posted by Doug McCaughan in : Daily Life, Family, From the mouths of babes, Of Being Dad

, 2comments
Dad: "Talk nice to each other…dammit!"
2comments
Posted by Doug McCaughan in : Uncategorized

, add a comment
I worry The Company has found Druckr. I keep gettin cryptic msgs, he may be tryin to warn me. Check out http
—
==================================================================
This mobile text message is brought to you by AT&T
add a comment
Shop quickly December 24, 2007 4:47 pm
Posted by utterz in : Daily Life

, add a comment
add a comment
Posted by Doug McCaughan in : Christmas, Daily Life, Holiday

, add a comment
After scoring bagels at Panera I wasted time at two stores and scored on the third. One more check off my list but look at that time fly! Back to shopping!
add a comment
Posted by utterz in : Daily Life

, add a comment
add a comment
Posted by utterz in : Daily Life

, add a comment
Audio clip: Adobe Flash Player (version 9 or above) is required to play this audio clip. Download the latest version here. You also need to have JavaScript enabled in your browser.
add a comment
Posted by Doug McCaughan in : Christmas, Daily Life, Holiday

, add a comment
Shopping done? No.
House cleaning done? No.
Gifts wrapped? What do you think?
Stressed? Why certainly!
add a comment