"Murphy was an optimist!"
Posted by Doug McCaughan in : Cathy, Daily Life, Family, Gadgets, Sarah, Technology

, 5comments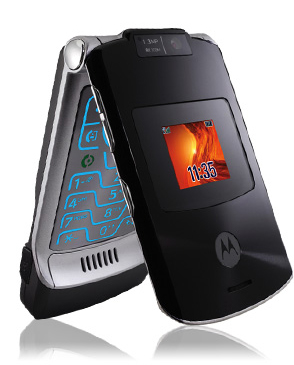 Our Motorola v400 phones were cutting edge when Cathy, Sarah and I got them. We have been holding out for the v600s because we wanted the ability to film video but the v600 was too troubled and we could not wait for its release. Good fortune shone on us for the v400s were great phones lasting longer than any of our previous cell phones! The v400s are notorious for slowly becoming harder to hear over time. The connection on the speaker corrodes. The mouths of babes who like to eat phones do not help. Additionally the microphone slowly dies.
I signed up with Bellsouth Mobility DCS in October or November of 1997 because I needed to take credit card numbers over the phone and DCS was the only digital option and dropped calls was the norm not the exception. I personally knew someone that took great pleasure in scanning analog phone signals and recording tidbits of spied information; digital was essential. There were parts of town I would avoid simply to not lose a call. At one point on Northshore I could tell my callers "I'll be back in 30 feet" My original Motorola cellular phone was huge! The sim card was the size of a credit card and it claimed that I was one of the first 100 DCS customers (I don't believe that).
So after extending the life of our v400 phones as far as I could, yes, I repaired them by removing the corrosion, they finally have met their end. Cingular, the new AT&T, had an awesome deal that ends tomorrow so Cathy, Sarah and I each ended up with the new Motorola RAZR v3xx phones. So far these have been wonderful! It is so nice to be able to hear people again. I had a Bluetooth headset years ago and I have missed it. I like my Bluetooth headset. These phones make videos and can send the video directly to Youtube! The camera is a 1.3 megapixel instead of a vga camera so the pictures sent to Flickr should look better.
The one BIG technical issue! I have a grandfathered feature with Cingular called Alternate Line Service. That means, I get a service that they do not sell anymore. It is a beautiful service and why they do not sell it is beyond me. I have to assume they lose money or too many cellular towers do not support the feature. I have 2 phone numbers each with their own voicemail box that come to one cell phone. Line 1 is my personal/private number that for the longest time I gave only to close friends and family. Line 2 is my business number 865-382-3080 which the world can have. ( for Google's sake you might also see that as (865) 382-3080 or +18653823080 ) Line 1 rings The Pink Panther; line 2 rings Mission Impossible. The documentation for the Motorola RAZR v3xx mentions multiple lines so I know the phone supports it. Cingular technical support claims the account is setup correctly. Now it is up to be to figure out how to configure the phone. Right now I am at a loss and seriously considering reducing my phone down to a single line. One customer service rep went so far as to say that the next time I upgrade our phone plan that they will request I drop the alternate line service anyway. I'd like to get the alternate line service working for another month and over that month let people know which number I'll be using.
I am really impressed with the v3xx phone!
5comments
Posted by Doug McCaughan in : Cathy, Daily Life, From the mouths of babes

, add a comment
Cathy: "You don't make the sociopath face then stick your tongue in my mouth!"
add a comment
Posted by Doug McCaughan in : Daily Life, Software, Technology

, 2comments
I have really enjoyed working with Ubuntu's desktop environment for Noah's computer. I am really wanting to setup the same for me. One of my client's uses RedHat for one of their servers and it is equally impressive. But not without headaches. Granted, Windows has its share of troubleshooting but usually it is a bizarre situation. In my case, I have successfully installed a very common version control system called Subversion aka SVN. I am thrilled with SVN's functionality and its integration with Dreamweaver.
Now the icing on the cake is to get some sort of ticket system working for the client so that in their two projects change requests, bugs (evil word!), documentation, etc can be tracked. The hot to trot open source software (OSS) right now is Trac and it is supposed to integrate with SVN. I have it almost working. Seems I failed to get the svn-python bindings in place. Every tech document and online chatroom replies to my issue as "sounds like your subversion python bindings aren't working" but no one cares to elaborate. I've scratched a part of my head bald trying to figure this out! Unfortunately, it has also distracted me from my main goal for the client but once the ticket system is in place, they will be thrilled and piles of sticky notes can go away. Until then, they will see it as misdirected time I am sure. Establishing process and procedure in a company is always an uphill battle.
2comments
Posted by Doug McCaughan in : Cool Sites, Humor, Of Interest

, 1 comment so far
1 comment so far
Posted by Doug McCaughan in : Daily Life

, 3comments
Apparently I carry my stress in my muscles. My arms hurt. My legs hurt. My back hurts and my hands feel swollen.
3comments
Posted by Doug McCaughan in : Of Interest

, 1 comment so far
Watching Eddie Griffin drive his Enzo Ferrari into a wall made me queasy. He was practicing for a charity race but I can find no other details.
1 comment so far
Posted by Doug McCaughan in : Amy, Daily Life, Family, Of Being Dad

, add a comment
I say that a lot. Don't put off until tomorrow that which you can do today! But I do not always live it. My daughter brought home the cutest drawing the other day and I immediately brought it to my desk to scan it for eternity. Because I get distracted, and because I live like a pig, it got lost on my desk. I have made an unforgivable edit to the drawing. It now lives with a coffee stain. But has been moved to the scanner for protection and, if my Windows 98 box (which is attached to the scanner) actually boots, the document will be scanned shortly. (click the picture to read the notes)
Regarding other mantras. We speak them until we are blue in the face. "Don't put it down; put it away." But the meaning is not fully realized until our children see us living our mantras. That means my desk and work space must become clean and organized and be that way in perpetuity. Yesterday Tommy gleefully told me that Blizzard Entertainment was hiring and that he met some of the requirements (like "must have played lots of WoW"). In preparation for his entry into the real world the high school is helping him see what kind of jobs are out there. He threw me off a little when Tommy said, "I hope I get to work at one of those programming desks that have papers all over the place and are real cluttered." I took pause! He'd just described my work environment as if it was a good thing. We discussed how being sloppy at an office would be detrimental to your job and negative to your co-workers. He also didn't realize that working for Blizzard would probably mean moving to the West coast. I think yesterday was the first time he had actually put thought to the fact that working means getting out of the house. I must set a better example! What we do and say reflects through our children and carries into their lives.
While camping in the Okefenokee I said to one of the other leaders, "you don't get what you don't ask for" and we talked about mantras. I quipped that I was sure the children heard Charlie Brown noises when I spoke. Not two hours later the leader returned to me and said, "You know what Noah just said to me? 'You don't get what you don't ask for.'" That dropped my jaw! What we do and say reflects through our children and carries into their lives. They are listening! They are paying attention.
add a comment
Posted by Doug McCaughan in : Religion / Spirituality, Science, Touchy Subjects

, add a comment
OH! I finally get it. There is no such thing as evolution! I just never looked at the peanut butter. (The smugness in their misunderstanding of science is almost irritating.)
add a comment
Posted by Doug McCaughan in : Uncategorized

, add a comment
C new video @ activatingevolution.org. Heard rumors of "specials" who can do what this scientist does. New VMs 2 @
—
==================================================================
This mobile text message is brought to you by Cingular, now the new AT&T
add a comment
Posted by Doug McCaughan in : Daily Life

, 1 comment so far
That does it. I've read all your blogs and even caught up on several comments. I even tried to get Jon laid. I survived checking my minor email boxes. No more procrastination. Now I have to look in my primary email box which has accumulated a week's worth of bad news. The anxiety attack I am having over this is ridiculous! Life goes on despite how many people seem to think particular parts of my anatomy need enhancing or that my Paypal account is in jeopardy. If I'm not back in 3 days, send a psychologist.
Update: Email wasn't terrible. Could have been better had I checked it this past Thursday.
Update: Related goodness from Newscoma.
1 comment so far
Posted by Doug McCaughan in : Daily Life, History

, 5comments
I was listening to Chicago's 25 or 6 to 4 on the radio this morning and the opening lyric "waiting for the break of day" caused this sort flashback to a time loooong ago when I used to closeout the bars around the UT campus. Many Fort resident's will share fond memories of Griffins. See, there's a subculture to the bar scene. You have your regulars and the horny people hoping to drink enough that it doesn't matter who they sleep with and then there is everyone else. As the night lingers on and the horny people's beer googles grow thicker, their pack thins. Of course the everyone else crowd just dissipates over time and the words "last call" send them packing. That leaves the regulars. I frequently found myself among The Regulars.
"Last call!" doesn't mean the bar closes. It means it closes to everyone on the outside. Griffins, for instance, quit serving beer at last call and switched the taps to sarsaparilla which just happened to taste a whole lot like beer. The comradery experienced after hours is beyond description. Social barriers fall as the bartender joins the crowd and the taps open to anyone who wanders behind the bar. Bonding occurs. Tarot cards come out and futures are told. Eventually it all goes away. At some point, a brave soul decides it is time to leave the cave, the womb like environment. Those windows painted over in flat black guard the outside from the revelries inside and protect The Regulars from the harshness of the outside until they stupidly open that door and the 7am sun cuts through them like the unholy opening the Ark in Raiders! Bodies vaporise. Souls vanish! And these tales go untold…until the next Last Call.
5comments
Posted by Doug McCaughan in : Daily Life

, add a comment
I woke several times in the night. I was most wide awake at 3am and should have started my day but allowed my sore body and stressed out mind to sink back into the protective warmth of the bed. Now my day cannot begin until I get back from taking Amy to school so mentally I am thinking I am 6 hours behind. Such thinking is a terrible torment to place upon oneself. Instead of thinking so negatively, it would be so much better simply to start my day when it begins. It doesn't help that a very important person in my life lives 6 hours ahead of me. Hmm. A demented person could turn that into 12 hours behind. I wouldn't do that to myself would I?
add a comment
Posted by Doug McCaughan in : Politics, Touchy Subjects, World Politics

, 2comments
I absolutely love Tony Benn's reading of the UN charter.
I was born about a quarter of a mile from where we are sitting now. And I was here in London during the Blitz. And every night I went down to the shelter. 500 people killed. My brother was killed. My friends were killed. And when the charter of the UN was read to me. I was a pilot coming over the ???. We the peoples of the United Nations determined to save succeeding generations from the scourge of war which twice in our lifetime has caused untold suffering to mankind. That was the pledge that my generation gave to the younger generation and you tore it up! And it's a war crime that has been committed in Iraq. Because there's no moral difference …there's no moral difference between a stealth bomber and a suicide bomber. Both kill innocent people for political reasons. And that's why in Britain majority against American worldwide there is no support for the United States in this worldwide. And you're living… You're a declining empire as we were and you'll learn the truth. You were beaten in Vietnam as you said yourself that's why you didn't want to serve there. Said you don't want to die in a Southeast Asia rice paddy. And you'll be beaten in Iraq and I'm afraid that's the truth.
–Tony Benn, President, Stop The War Coalition
2comments
Posted by Doug McCaughan in : Cathy, Daily Life, Family, Of Being Dad

, add a comment
On the list of things you never want to hear them say: "I just broke my toe"
add a comment
Posted by Doug McCaughan in : Daily Life

, add a comment
Just got one off my back and made room for two more.
add a comment