"Murphy was an optimist!"
Posted by Doug McCaughan in : Environment, Touchy Subjects

, add a comment
NASA scientist declares .
"And thus, the water wars. By 2017 mankind had scurried to build pipelines in an attempt to move water from one side of the country to another. Environmentalists stayed silent as bulldozers and eminent domain tore through protected lands and national parks in a attempt to settle the anarchy which had befallen California. By 2018, millions of Californians had died and the first water trickled through the continental pipeline. Between 2015 and 2018, naturally scientists and companies looked to the Pacific Ocean for desalinization but our technology just wasn't ready. By 2019, the national stabilized. California's water rationing was released and the remaining residents filled their pools, and greened their lawns. By 2020, the areas of the United States feeding the great water pipeline began to feel the pain as water rationing was introduced in their counties. Domestic terrorists began strategic attacks upon the pipeline. Countries around the world began experiencing similar problems as the United States. Desalinization attempts were begun again. In 2022, only the superrich remained alive in California as they could truck water in. One entrepreneur recognizing the hopeless demise of the polar ice caps had begun a glacier harvesting operation to haul polar water to the United States. Other countries followed suit and by 2030, what remained of the polar ice caps was a polluted, pillaged, undrinkable mess riddled with blood and oil stains and slightly irradiated from the ice harvesting tools and skirmishes. In 2035, a lone man sat in a desert, protected only by shade he created with the remains of a raggedy Coleman tent. A single jet flew low overhead. Little did he know it was the last plane to ever flew. It had been on a scouting mission for drinkable water and the pilot, devoid of hope, crashed it into the ocean. The desert man hummed a mantra, withdrew a stick from his backpack, and proceeded to use his divining rod where he sat under his shade. The stick pulled to the ground. 10 minutes later, with minor effort of digging, the desert man quenched his thirst. …"
add a comment
Posted by Doug McCaughan in : Environment, Of Interest, Touchy Subjects

, add a comment
Compare your rivers to this one in Bangladesh.
add a comment
Posted by Doug McCaughan in : Environment, Touchy Subjects

, add a comment
The nuclear disaster in Japan has increased from a 4 to 5 on a scale of 1 to 7.
These are categories on the International Nuclear and Radiological Events Scale (INES), which runs from zero (nothing happened, essentially) to seven, a "major accident".

So far, Chernobyl is the only seven-rated incident in nuclear history.

Level five is defined as an "accident with wider consequences".

[Source, BBC News Science & Environment, Japan raises nuclear alert level]
Three Mile Island was also a level 5 incident. Now the radiation has reached the United States.
[1:39 p.m. ET Friday, 2:39 a.m. Saturday in Tokyo] Monitors in Sacramento, California, have detected a small amount of radioactive material from the earthquake-struck nuclear power plant in Japan, an official with the Comprehensive Test Ban Treaty Organization said. The exact amounts were not available, but were far less than what would be considered harmful to human health, the official said.

[Source, CNN, Japan quake live blog: Small amount of radiation reaches California, official says]
Before you put on your tinfoil hats (and remember, mine is shinier than yours), and cover your testicles in aluminum foil, re-read the sentence that the radiation is "far less than what would be considered harmful to human health."
Update: Another doctor cautions against over-reaction:
"I think the biggest health impact is the psychological impact," said Dr. Jonathan E. Fielding, the director of the Los Angeles County Department of Public Health. "Anytime people hear 'radiation' it evokes a level of fear that is disproportionate to the threat."

[Source, The New York Times, For Radiation, the Alarm Bells Are Boxes]
add a comment
Posted by Doug McCaughan in : Environment, Of Interest, Technology, Touchy Subjects

, add a comment
If you aren't following what is happening in Japan and Fukushima, you should be.
add a comment
Posted by Doug McCaughan in : Environment, Science, Touchy Subjects

, 2comments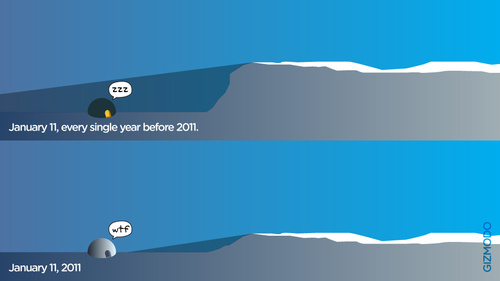 For a month and a half, there's absolutely no Sun in Greenland because of Earth's angle in relation to our home star. People there eagerly await for January 13, when the Sun rises again, every year. Except this one. This year, the Sun rose 48 hours ahead of its projected date. … [Source, Gizmodo]
2comments
Posted by Doug McCaughan in : Economy, Environment, Politics, Touchy Subjects, War, World Politics

, add a comment
The country that brought us Chernobyl will now be floating 8 nuclear power plants on top of the world. Granted, the United States had Three Mile Island and I'm told by an old timer that apparently there is was a reactor meltdown in Oak Ridge in the 50s that was buried physically and by public relations but I cannot validate that. Let's not forget who is the world leader in exploded nuclear bombs. As the arctic ice shrinks and exposes more land, a battle is brewing for the possible gas and oil reserves previously hidden by the ice. The major players will be Canada and Russia but other countries could try to stake claims. With these ships that could supply power to 45,000 for 12 years at a time..that's 12 years without needing to return to port..Russia certainly has an advantage.
[Source, BBC, A rare view of Russia's floating nuclear power station]
add a comment
Posted by Doug McCaughan in : Environment, Of Interest, Politics, Technology, Touchy Subjects, War

, 2comments
How many nuclear bombs have been exploded? Many people would say, "One, over Japan" when it fact it was two, one over Hiroshima and another over Nagasaki. Would you believe that Britain has exploded a nuclear bomb in the United States? Would you believe that in 53 years 2053 nuclear bombs were exploded around the globe? I find the following video unsettling. It left me feeling hollow in my chest and subtly angry.
[Source, Isao Hashimoto, 1945-1998]
2comments
Posted by Doug McCaughan in : Environment, History, Of Interest, Touchy Subjects

, 3comments
I am excited beyond words. Today, I received my phone call explaining that my family may be one of the fortunate families picked to participate in the Great Smoky Mountains National Park re-dedication ceremony as part of the park's 75th anniversary celebration! I've stood where Franklin D Roosevelt dedicated the park on September 2, 1940, "for the permanent enjoyment of the people" and tried to imagine that day. It will be such an honor to be at Newfoundland Gap on September 2, 2009 for the re-dedication if we actually get tickets. The thought puts butterflies in my stomach.
I was born on the coast of North Carolina and had the good fortune to make several trips to the Great Smoky Mountains National Park (map) as a child. I have fond memories of climbing up to Clingman's Dome and looking out over the park's lush green forest. I did not see the park for most of my teen years. When I became a student at the University of Tennessee in Knoxville, I revisited Clingman's Dome to be dismayed at the devastation of the Balsam Woolly Adelgid. The park became my Walden Pond where I escaped for inspiration, adventure, and respite. Over the years, I made many journeys with friends and solo. I've watched the sun rise from atop the Chimney Tops and skated down solid ice with a burned out flashlight on a Alum Cave Bluff night hike in January. I've laid in the back of a pickup truck at midnight in a trail head parking lot staring at the Milky Way in awe only to be blinded by a park ranger's spot light wondering what I was doing. I was privileged to watch a homemade video by mutual friends of the last caretaker of the Wonderland Hotel as he told stories about the trains which would bring the visitors to the hotel. Another old timer chuckled and shared a story with me once. Said he was on a Cade's Cove tour and the guide pointed to a nook in the wall incorrectly conjecturing to its purpose. The old timer explained, "I'll tell you what it was. That was the family's [he said their name] store and there was a tin can in that nook with a string that went to a tin can in the house so that people picking stuff up from the store could talk to them." He spoke with authority. I nearly stepped on a copperhead, a black snake and I shared the trail for a bit, and I've passed a rattle snake sunning on a log. I've been nose to nose with deer, smelled bear, and watched many other creatures. My adventures in the Smokies have been awesome. I've driven Rich Mountain Road so fast that Bo and Luke Duke couldn't have caught me (okay, not a proud moment but I had the groom in the Jeep, got caught in Cade's Cove traffic and wasn't about to make him late for the wedding). Streams and waterfalls have been swum. I've seen a lot of the back country. Greenbier is my favorite. I'd camp down an old railroad bed with its hard to find trailhead hidden beside the ranger's house. I never did find the old steam engine in the gorge. I was with the oldest ranger in the park when she told a group of girl scouts about the land she lived upon as a child. We then went across the street from the Sugarlands Visitor Center and hiked the nature trail on what used to be her family's land.
The Great Smoky Mountains Natural Park has so many treasures from stories to adventures to nature to science to spirituality and so much more. Visit this park as often as you can. You won't be able to get enough!
The Tennessee Tourist Development Commission proposes this pledge to all Tennessee tourists, whatever their interests:

"Take nothing but pictures;
Leave nothing but footprints;
Kill nothing but time."

[Source, Robert E. Hershey, State Geologist, 1980, Forward:Caves of Tennessee p.viii]
3comments
Posted by Doug McCaughan in : Environment, Health, Touchy Subjects

, 4comments
Several years ago I committed to keeping DEET away from my children. Every now and then I waiver and allow a DEET based mosquito repellent to touch their skin but it still makes me cringe. Why? DEET hurts them!
We've found that deet is not simply a behavior-modifying chemical but also inhibits the activity of a key central nervous system enzyme, acetycholinesterase, in both insects and mammals [Source, Physorg.com, Vincent Corbel from the Institut de Recherche pour le Développement in Montpellier]
I have since tried natural repellents using a concoction which included eucalyptus and lemongrass, and tried others with DEET alternatives such as Picaridin (which years from now may have as bad a rap as DEET). I have had good results with the natural products as well as the DEET alternative products. I am satisfied enough to know that I never need to use DEET again.
DEET is serious bad! You need to stop using DEET on your children!
The active ingredient in many insect repellents, deet, has been found to be toxic to the central nervous system. Researchers writing in the open access journal BMC Biology say that more investigations are urgently needed to confirm or dismiss any potential neurotoxicity to humans, especially when deet-based repellents are used in combination with other neurotoxic insecticides. [Source, Physorg.com, Popular insect repellent deet affects nervous system: study]
DEET was discovered in 1953. If it is truly neurotoxic to humans, what of today's ailments and afflictions will be contributed to DEET?
See also: Evidence for inhibition of cholinesterases in insect and mammalian nervous systems by the insect repellent deet from BMC Biology.
4comments
Posted by Doug McCaughan in : Environment, Health, Touchy Subjects

, 6comments
UPDATE! The maps are now being updated at http://flutracker.rhizalabs.com/ and the embedded maps below are no longer being updated.
Remember, wash your hands frequently. Avoid public places until this passes. What will you buy in preparation for the swine flu? Be sure to follow djuggler on Twitter.

View H1N1 Swine Flu in a larger map

View H1N1 Swine Flu in a larger map
Map Legend: Pink markers are suspected cases, Purple markers are confirmed cases, if there is no black dot someone has died, yellow markers indicate tests came back negative. Map created by Niman of Biomedical Research in Pittsburgh, PA USA.
See also: HealthMap – Global disease alert map. Mashable explains how to track swine flu online.
Update: US declares public health emergency for swine flu
WASHINGTON (AP) — The U.S. declared a public health emergency Sunday to deal with the emerging new swine flu, much like the government does to prepare for approaching hurricanes. [Source, CourierPress/Associated Press]
Update: U.S. prepares for possible swine flu epidemic as global cases rise
(CNN) — The United States stepped up preparations for a possible swine flu epidemic, and Canada confirmed its first cases on Sunday as researchers worked to determine how contagious the virus could be. [Source, CNN Health]
Update: Swine flu: Twitter's power to misinform
Update: Another map which actually shows the number for each area affected. The data is by The Guardian and looks to be lagging behind Niman who just really seems to be on top of it.
Update 27Apr2009: Swine Flu in Mexico Linked to Poorly Managed Factory Farms
Investigations now reveal that the swine flu epidemic that began in Mexico and spread worldwide is probably connected to pollution caused by unsanitary pig breeding farms in the region. [Source, ecoworldly, Swine Flu in Mexico Linked to Poorly Managed Factory Farms]
Update 28APR2009: Swine flu creates controversy on Twitter (I don't agree with the tone of this article. To me it sounds like John D. Sutter doesn't get Twitter.)
CNN has a map!
The World Health Organization on Monday raised its pandemic alert … from level three to level four on the WHO's six-level threat scale means the world body has determined the virus is capable of significant human-to-human transmission — a major step toward a flu pandemic [Source, CNN, WHO raises pandemic alert level; more swine flu cases feared]
Update: Obama Seeks to Ease Fears on Swine Flu – "the president said there was 'not a cause for alarm.'"
Swine Flu in Mexico- Timeline of Events
The dirty farm in Mexico which is the apparent source of the flu is 50% owned by American company Smithfield.
Update: Sebastian blogs from Mexico.
Update: Interesting sickness tracker based upon Twitter references: Knoxville, Nashville, and USA. Thanks to Michael Silence and Ben Cunningham of Taxing TN for the link.
New York City Health Commissioner Thomas Frieden reports many hundreds of school children sick with suspected cases of Swine Flu.
Update: Cuba closes borders to travel from Mexico. Swine Flu
Update: First person in Mexico with Swine Flu identified.
6comments
Posted by Doug McCaughan in : Daily Life, Environment, Health, Mental, Sleep, Touchy Subjects

, add a comment
Apparently I dream in Green. Last night, I had vivid dreams of competing with Ed Begley Jr. and Bill Nye for the most environmentally sound lifestyle. Uh, fantasy dreams? How could I possibly compete in an eco war with those two?! See Ed Begley Jr.'s FAQ.
add a comment
Posted by Doug McCaughan in : Environment, Family, Of Being Dad, Touchy Subjects, Transportation, Travel

, 2comments
I am a huge advocate of telecommuting. I acknowledge that telecommuting is difficult as the employee has to be very self-disciplined and the management has to let micromanagement go and extend a huge amount of trust in the employee. I think the benefits far outweigh the negatives. Barack Obama sees the benefits to the family in encouraging telecommuting as stated in The White House's Family Agenda.
Expand Flexible Work Arrangements: Barack Obama and Joe Biden will address this concern by creating a program to inform businesses about the benefits of flexible work schedules for productivity and establishing positive workplaces; helping businesses create flexible work opportunities; and increasing federal incentives for telecommuting. Obama and Biden will also make the federal government a model employer in terms of adopting flexible work schedules and permitting employees to petition to request flexible arrangements. [Source, WhiteHouse.gov,The Agenda-Family]
Be sure to read Duncan Fisher's summary of Obama's program and his oration on fatherhood.
2comments
Posted by Doug McCaughan in : Environment, Touchy Subjects

, add a comment
Following the TVA Coal Ash incident? You might want to watch this video to see how truthful TVA is being.
See also: TVA tries to kill Ocoee aquatic life. Video and link thanks to Russ McBee's Yahoo Pipe.
add a comment
Posted by Doug McCaughan in : Environment, Touchy Subjects

, add a comment
Well, maybe…
it's been 600,000-ish years since Yellowstone's supervolcano has gone off full blast…
Picture 1,000 Mount Saint Helenses…
A supereruption could kill tens of millions.
More than half the U.S. will experience ashfall, potentially fatal if inhaled.
…could devegetate a third of the lower 48 (including some of the world's most productive farmland) for years or decades, leading to mass starvation…
Within 10 to 50 miles of the next Yellowstone vent, you'll be Pompeiiized…
What's the chance of a supereruption anywhere in the world in the next 50 years? Estimates range from one chance in 1,000 to one in 10,000 — hardly cause for panic.

[Source, The Straight Dope, Is Yellowstone Park sitting on a supervolcano that's about to blow?]
add a comment
Posted by Doug McCaughan in : Environment, Health, News, Of Interest, Touchy Subjects

, add a comment
My friend had a similar experience:
TVA's private security detained our friend as (TVA's words) an "environmental activist." Cathy asked last night, what does one fear from an environmental activist at a toxic waste site? Are they afraid they'll pull out a paper towel and start cleaning?

TVA's private security, described as dressed in dark uniforms with no clear insignia, took our friend's picture, took personal and professional contact information, recorded the license plate, commented on the contents of the vehicle, commented on the environmental bumper stickers, and kept our friend detained in the car for a half an hour. Our friend had turned onto a side road but not crossed any fence, barricade or posting of any kind.
Read more about the Tennessee coal sludge spill on Wikipedia.
add a comment