"Murphy was an optimist!"
Posted by Doug McCaughan in : Activism, Daily Life, Family, From the mouths of babes, Noah, Politics, Touchy Subjects

, 3comments
Dad: "Noah, do you know that the school board passed a new rule allowing random searches at the school?"
Noah, 12 years old: "No."
Dad: "It means that teachers can just pull you aside and have you show them everything in your bag and pockets. How do you feel about that?"
Noah: "I'm not doing anything wrong so I guess I'm okay with it."
My heart sank. He gave the scripted answer! The system has him. I think Noah is old enough to read 1984, Brave New World, and Fahrenheit 451. Time to knock the dust of my copies.
3comments
Posted by Doug McCaughan in : Activism, Politics, Touchy Subjects, United States

, add a comment
(mature language warning)
Leonardo DiCaprio, will i. am, Tobey Maguire, and Forest Whitaker have created public service announcements to encourage American youth to register to vote. The non-partisan PSAs, produced by DiCaprios Appian Way, were created to engage and inspire young people to register and vote and participate in the upcoming election. Celebrities appearing in the PSAs include: Amy Adams, will.i.am, Jennifer Aniston, Kevin Bacon, Halle Berry, Kate Bosworth, Kevin Connolly, Courteney Cox, Ellen DeGeneres, Leonardo DiCaprio, Jamie Foxx, Jonah Hill, Dustin Hoffman, Anthony Kiedis, Ashton Kutcher, Adam Levine, Laura Linney, Eva Longoria, Tobey Maguire, Demi Moore, Natalie Portman, Giovanni Ribisi, Ethan Suplee, Kyra Sedgwick, Michelle Trachtenberg, Usher, and Forest Whitaker.
Have you reached out to an unregistered voter and encouraged them to participate in the election? Time is running out. Find voter registration information at http://maps.google.com/vote
add a comment
Posted by Doug McCaughan in : Activism, Environment, Touchy Subjects

, 4comments
Fall is upon us and the weather is beautiful! Are you stilling running your air conditioner? Why? For the past 2 weeks or more, we have kept our windows open most nights and through most of the day. Some afternoons get too warm and the air has to be run briefly. At night, the bedroom windows may be closed so the children don't catch a chill but the rest of the windows are left open to enjoy the sound of nature, feel the breeze, and on those wet days listen to the pitter patter of rain drops.
We forget the sounds blocked by the windows. The melodious birds are relaxing. The crickets and cicadas are disturbing to some and calming white noise to others. The sound of the rain is a special treat. The open windows air out the house with fresh smells. Best of all, open windows mean less electricity which is good for the environment and pleasing to the pocketbook. Try keeping your air conditioner off for 3 weeks and see if your next utility bill is not surprisingly pleasing.
4comments
Posted by Doug McCaughan in : Activism, Environment, Philanthropy, Touchy Subjects, Transportation, Travel

, 2comments
I learned something today. Every time you buy only $10 worth of groceries at Kroger, they will give you a free bus pass for KAT! Simply go straight from the cash register to customer service with your receipt and get a one use bus pass that is valid for 7 days. So you never ride the bus. There is no bus stop convenient to you blah blah. Why would you do this? Many churches accept these bus passes to include in their food pantries. Naturally you have to act quick since the pass will expire a week from purchase. Of course, you could use it as an excuse to experience Knoxville's public transportation. Go to the mall and take the bus for its full loop. You might learn that the bus is convenient for getting from West to downtown for special events. You could even tape the tickets to a bus stop sign. Someone will use them and be grateful. Kroger is encouraging green. Take advantage of it!
2comments
Posted by Doug McCaughan in : Activism, Education, Health, Local Politics, Politics, Touchy Subjects

, 1 comment so far
They are voting today!
This vote regarding kids going to the school closest to [their] home, gets voted on TOMORROW! This is an initial vote by six house members. They must be contacted today.
The original email:
Dear Friends and Neighbors,

Rep Mike Turner and Senator Haynes have proposed a change to the Tennessee Code that shall allow "any pupil so desiring to attend the school closest to the geographical location of the place of residence of the pupil." This bill is in committee this week so we must ACT NOW! You can get more information on this bill by going to the TN government state website: http://www.state.tn.us/

The bill is being proposed in both the house (2524) and senate (2891). This addresses the concerns of many families throughout Knox County who felt that their children should attend a school closer to their home.

I encourage you to call or email your representative. Also, if you have a relationship with anyone on this list or in the State House or Senate, please contact them as well.

Below is a list emails for State Officials representing Knox County.

Thank you for your time.

Pamela Treacy

Senate

Randy McNally (R) 307 WMB, 37243-0205 741-6806 741-7200
94 Royal Troon Cir, OR 37830 483-5544
Jamie Woodson(R) 317 WMB, 37243-0206 741-1648 253-0270
8509 White _s Pond Way,37923 539-8683
Tim Burchett (R) 310A WMB 37243-0207 741-1766 741-7200
8220 Bennington Dr 37909 693-1902

House District

Harry Tindell (D) 33 LP, 37243-0113 741-2031 741-1446
P.O. Box 27325, 37927-7325 524-7200
Park M Strader (R) 214 WMB, 37243-0114 741-2264 741-1005
708 Farragut Commons Dr,37934 694-9165
Joseph Armstrong (D) 25 LP, 37243-0115 741-0768 253-0316
4708 Hilldale Dr, 37914 523-6374
Bill Dunn (R) 205 WMB, 37243-0116 741-1721 532-8221
5309 LaVesta Rd, 37918 687-4904
Frank Niceley (R) 113 WMB, 37243-0117 741-2282 253-0217
1023 Creek Rd, Str Plns37871 433-4419
Stacey Campfield (R) 113 WMB, 37243-0118 741-2287 253-0217
2011 Flagler Rd, 37912 455-2627
Harry Brooks (R) 207 WMB, 37243-0119 741-6879 253-0212
6600 Washington Pike, 37918 687-5987
1 comment so far
Posted by Doug McCaughan in : Activism, Politics, Regional Politics (Mid-W), Touchy Subjects

, add a comment
How about seven miles? Read more on BoingBoing and RuralVotes.com.
add a comment
Posted by Doug McCaughan in : Activism, Economy, Environment, Touchy Subjects

, add a comment
If you watch the first 5 minutes you'll watch the whole thing…and you'll turn off your lights. Tell your power company you want green power.
Learn more at the Sierra Club.
add a comment
Posted by Doug McCaughan in : Activism, Blog, Communications, Publishing, Technology, Touchy Subjects

, add a comment
What?!! Reporters, bloggers, and spammers get lumped together at the end?
Email spamming reporters and bloggers: Why is this here as a tool? Because people are still doing it in spite of the high risk and low reward! They can't give up the 1% return. See Eric Eggertson on the topic. [Source, Now is Gone, The Public Relations Long Tail]
add a comment
Posted by Doug McCaughan in : Activism, Education, Health, Local Politics, Politics, Touchy Subjects

, add a comment
Do you care for the future of education in Knox County? We have asked that the citizens be heard in choices like rezonings and choosing a school superintendent. They are now willing to listen!
Knox County residents are invited this week to share their suggestions on what characteristics the school system's new superintendent needs.

And the school board has been told to stay away.

[Source, Knoxnews.com, Residents' input sought on superintendent]
I personally think the superintendent needs to come from outside of Knox County and maybe far from TN where local politics and good ol' boy relations will not be an influence. I want someone making decisions that are right for our children and not because of politics or helping a buddy out.
Don't forget to attend the superintendent search forums tonight (11/26) at either Austin East or Central High School auditoriums, beginning at 7:00 pm.

Additional forums will be held Tuesday, 11/27/07, at South Doyle and Bearden High School auditoriums, also at 7:00 pm.
This is very important! Make the time to voice your opinion please.
add a comment
Posted by Doug McCaughan in : Activism, Blog, Love, Philanthropy, Philosophy, Publishing, Touchy Subjects

, 2comments
I am really enjoying participating in The Problogger Birthday Bash Darren Rowse and Lara Kulpa have put together. I do find it a little troubling that when they offered a prize of $1000 to your favorite charity it only generated 24 qualifying entries! Now turn it around. Instead of offering a decent sum of money for someone else, offer a $20 gift certificate for yourself and they got 724 comments! (not all of those would have been qualifying but I'm not going to count). Granted, there was a prize in that post which could have gotten you $500 for yourself but winning any other prize did not disqualify you from entering the charity giveaway. Every single Problogger reader should have entered the charity giveaway!
Ok. Let me get off my soap box and add in a little rationality.
The money for self contest required no effort, just a comment under the post itself with as little as one word in it, so it makes sense that the number participants would be far greater.
We assume that every reader of Problogger, due to its subject matter, has a blog BUT that could be a false assumption; ergo, the participation in the money for self would be higher.
Not everyone is into charities. And that's ok. So the participation in the money for self would be higher.
The charity post required a little substance and effort. Unfortunately, effort and substance do knock a lot of people out of the game. Therefore, the money for self would be naturally higher.
All that said, it does make sense that some of the other contest posts would generate more comments. But only 24 valid entries for giving $1000 away to a meaningful cause?! Surely we should have done better than that! Karthik shares my sentiment.
Life is a participation sport. Get up! Participate! Be active in your community. Vote! Go to school board meetings. Pick up trash. Bring a shopping cart into the grocery with you instead of leaving it in the parking lot. Say hi to your neighbor. Hug someone daily! Volunteer your time. Leave a legacy. Make a difference!
2comments
Posted by Doug McCaughan in : Activism, Politics, Touchy Subjects, United States

, 8comments
I just watched the University of Florida student getting tasered and read the account of the falsification of the police report. I am appalled! The video indicates no wrong doing! The questions seemed appropriate and Kerry seemed willing to answer. The growing abusive police state in this nation must be contained! What growing abusive police state? The abusive police state that commands on of our military personnel, who put his life at risk to protect your freedoms, to stand up so the officer can shoot him. The students who sat idly by should have risen from their chairs when the officers stood threateningly behind the student. They should have made a human barricade and assured the freedom of speech that our forefathers gave their lives for during the Revolutionary War. How we dishonor them! Our government exists by the will of the people and if the government is stepping out of line then the people must step up! Besides, what's college if you haven't been arrested at a protest?
Easier said than done you say? I would have sat idly by also if I were there you say? You don't know me very well then. All that said, I acknowledge that maybe there were other circumstances not conveyed in the video or the media that led to this event. Perhaps the student had an altercation with the police earlier.
As Naomi Wolf has rightfully pointed out, the tasering of Andrew Meyer will be remembered as a watershed moment in American history. That much is certain. The only thing that remains to be seen is how we, as Americans, react to it. Will we sit passively by while our Constitution and our Democracy are murdered right before our eyes?

…

The choice is clear: either we fight fascism right now with all our power, or we will be the next ones on the ground with a policeman's knee on our throats and 50,000 volts of electricity coursing through our bodies.

[Source]
Update: Is that officer laughing?!
8comments
Posted by Doug McCaughan in : Activism, Announcements, Of Interest, Politics, Touchy Subjects, World Politics

, add a comment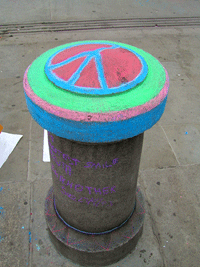 Do you have your chalk ready for tomorrow? Writing on the sidewalks is not vandalism or graffiti, it's art! And it washes away.
Campaign to shift the paradigm from conflict to UNITY. From a double negative "No to War" To a double positive "Yes to Peace" [Source]
"Chalk4Peace" is a very simple, fun and inexpensive peace action
that you can implement in your local community [Source]
Get out tomorrow and draw a peace sign or a heart on the sidewalk!
add a comment
Posted by Doug McCaughan in : Activism, Environment, Touchy Subjects

, add a comment
or maybe a little over 600 people. Shrunken penises, hard nipples, and frigid women! And one severely painted man(nsfw) who I do not think could possibly hold another tattoo. Oh, Greenpeace! And the famous Spencer Tunick of course! (and as if you really had to ask, no! That link is not safe for work…)
This moment brought to us by BoingBoing from LaughingSquid.
Update: there appears to be at least one family of confused cave people(nsfw) from global warming's progress on the glaciers.
add a comment